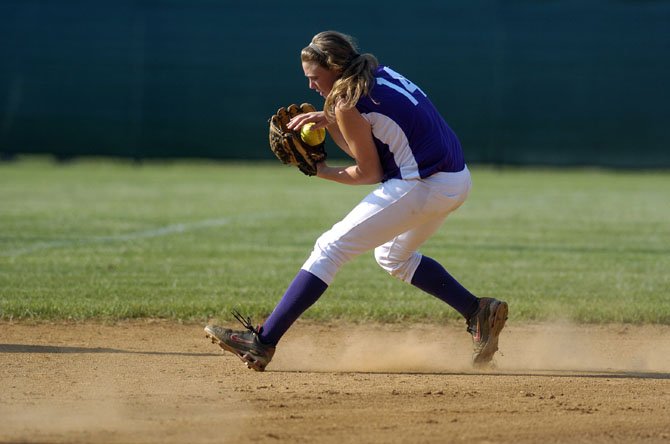 Chantilly — The Chantilly High girls' softball team is spending the current spring break week competing at the Myrtle Beach Grand Strand Tournament in South Carolina. There, the Chargers were scheduled to play three games.
Upon returning home later in the week, Chantilly, which a year ago turned out to be one of the surprise teams of the Northern Region when it reached the Concorde District tournament championship game before advancing to the 16-team Northern Region tournament quarterfinals, will begin to set its sights on the tough district schedule ahead over the next five weeks.
Prior to leaving the area for South Carolina for spring break, Chantilly had split its first four games of the season, building a 2-2 record. The team opened the spring with a disappointing 3-0 home loss versus Washington-Lee High on March 13, but came back strong a couple of days later with a rousing 12-2 win at Yorktown High which, like Washington-Lee, is an Arlington County school and a part of the National District.
In the win over Yorktown, Chantilly scored three runs in the top of the fourth inning to break a scoreless tie, highlights of the inning includied a triple by senior pitcher Alex Sallberg, an RBI single by sophomore Colleen O'Brien, and a two-run single off the bat of senior catcher Tori Doherty.
Later in the game, with Chantilly ahead 3-2, the Chargers broke through for nine runs in the sixth inning to put the game away. Yorktown did not help its own cause with four defensive errors and four walks in the inning. Chantilly freshman Stacey Feeback knocked a two-run single in that breakout sixth. Sallberg was the winning pitcher, striking out five in the complete game (6 innings) outing.
In its third game on March 20, the Chargers traveled to Loudoun County to take on traditional Dulles District power Broad Run High School in Ashburn. There, the home team Spartans defeated Chantilly, 4-0. However, the Chargers got back onto the winning track with a 3-0 victory at Hayfield High (National District) two days later on March 22 to even their record at 2-2.
"We are working really hard both offensively and defensively so that we can have error free games and put our hits together," said Chantilly head coach Carmen Wise. "We have six returning seniors on our roster that have played strong for us early on."
Those 12th graders include Chantilly pitchers Sallberg and Emily Gembarowicz, as well as batterymate catcher Doherty.
Wise's squad has a good mix of talented younger players on the roster as well in such ninth graders as Sabrina Pierce and Feeback.
"We also gained some determined freshman in our lineup," said the coach. "I look forward to a season of high expectations."
THOSE EXPECTATIONS are a result of last year's good success when the Chargers went 15-7. They made a strong run at the district championship in 2011 before falling in the tournament finals to powerful Westfield High, which went on to capture the region crown as well. At regionals, Chantilly won a first round home game over Mount Vernon before losing a 5-4 heart-breaker in the quarterfinals to South County in a contest played over Memorial Day Weekend at Falls Church High School.
Chantilly is working hard to have another good season this spring. The Chargers, earlier this week, lost its first game over the spring break trip, falling to Berea High of Greenville, S.C., 7-2, on Monday, April 2. Chantilly was scheduled to play games the following two days as well, beginning with a Tuesday contest versus Jamestown High of Williamsburg.
Next week when school resumes, Chantilly will dive right into its district schedule. The Chargers will play their first game versus a Concorde opponent on Tuesday night, April 10 at cross-town rival Westfield High. Next Friday night, April 13 Chantilly will return home for a meeting versus the Oakton Cougars. Both the Westfield and Oakton games are slated to begin at 6:30.