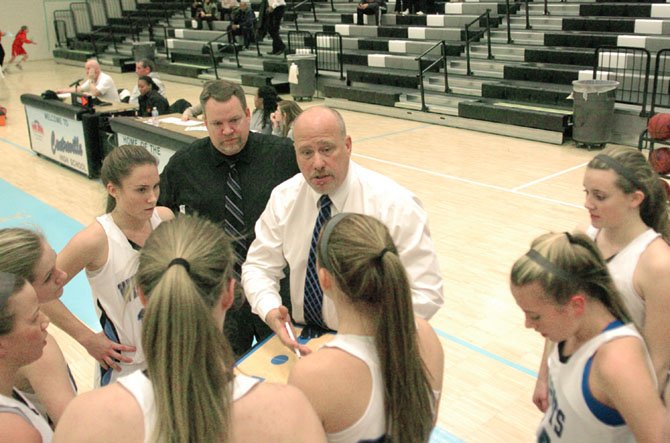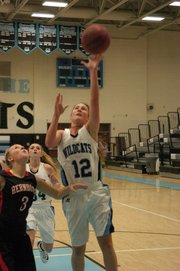 Centreville — First-year Centreville head girls' basketball coach Tom Watson has transformed the Wildcats from a halfcourt team to an up-tempo group that applies pressure at both ends of the floor.
With short, quick athletes, Centreville runs up and down the court, creating steals on defense and turning them into easy buckets. Receptive to the change, the Wildcats have run their way to a 13-1 record.
Centreville's latest victim: Herndon, which the Wildcats dispatched, 72-39, on Jan. 7 at Centreville High School. Herndon matched Centreville bucket-for-bucket in the opening minutes before the Wildcats swatted the Hornets with relentless pressure. Centreville forced 32 turnovers and had 10 different players score. The lopsided margin of victory was nothing new. In 13 wins, the Wildcats' average margin of victory is 31 points.
"We keep the pressure up because we're trying to work on our defense and our press," junior point guard Jenna Green said. "I feel bad and we feel bad, but it's going to make us a better team if we keep it up."
On defense, Watson said the Wildcats have a help-style approach that encourages a defender to take chances, knowing she has a teammate or two to cover her back. The result on Monday was steal after steal, including nine for Green.
"Right now we're really working on defense because once we get up against the harder teams, that's what's going to make us win the games and that's what's really important to us," she said. "Once we get those steals we can [go on fastbreaks] and that works for us."
"We were very excited. We're too small, I think, to play a halfcourt game. We're more about pushing it because we're all very fast and we all work together very well."

— Centreville junior Ashley Brusick
Offensively, Centreville gets a lot of easy baskets in transition, but the Wildcats can also shoot from the perimeter. Junior guard Ashley Brusick knocked down a trio of 3-pointers against Herndon and finished with nine points.
"We were very excited," Brusick said about the Wildcats switching to an up-tempo style. "We're too small, I think, to play a halfcourt game. We're more about pushing it because we're all very fast and we all work together very well."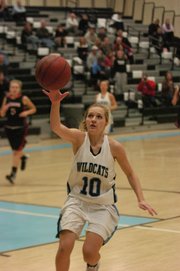 Green led Centreville with 22 points. According to stats from the Washington Post's Web site, Green is averaging 17.9 points per contest.
"She's a [Division I] player, without a doubt," Watson said. "A lot of colleges are already calling about her. … She runs the floor well, she's a leader on the floor and she's our whole team right now."
Herndon head coach Otto Jette was also impressed with Green.
"Jenna Green," he said, "is probably one of the best guards in the county."
Brusick is averaging 11.2 points and nearly three 3-pointers per contest, according to the Post's Web site. Senior forward Tori Collar scored 10 points and grabbed eight rebounds against Herndon. Junior guard Katie Blumer scored seven points and sophomore forward Caroline Wakefield scored four points and grabbed seven rebounds.
Oakton has won the last eight Concorde District championships. Centreville will face the Cougars for the first time on Jan. 18. Watson, who spent six seasons as a Centreville assistant, said the Wildcats will have a tough time matching up against Oakton's 6-foot-1 post Elizabeth Manner.
Green is confident Centreville can take care of business.
"It will be a great game and I think that we can definitely beat them," she said. "It will be close, but if we play tough defense we can definitely beat them."
Centreville will travel to face Westfield at 5:45 p.m. on Thursday, Jan. 10.