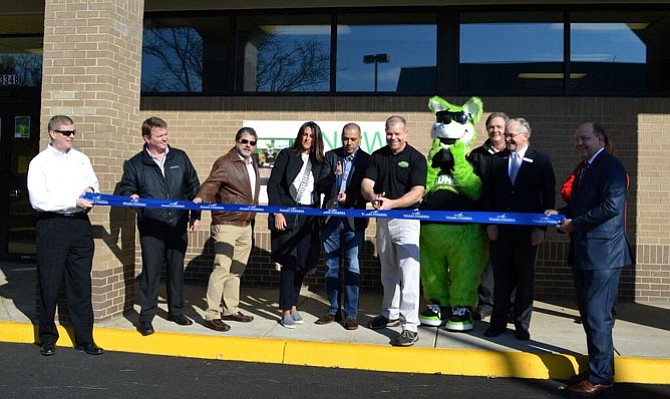 Herndon — Families in Herndon are jumping for joy, on trampolines that is. Launch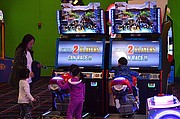 Trampoline Park/Herndon, located at 13348 Franklin Farm, Herndon, held their official Ribbon Cutting Ceremony, Friday, Dec.1. The Dulles Chamber of Commerce hosted the event to officially mark the opening of the year-round destination-entertainment center featuring connected trampolines and more.
Mike Heath, general manager of Launch Herndon, said, "We want to thank the Dulles Chamber of Commerce and all those who attended our ribbon cutting ceremony on Friday, Dec. 1."
John P. Boylan, president & CEO of Dulles Regional Chamber had the privilege of holding one side of the ribbon. Commenting on the ceremony, Boylan shared that Launch Trampoline Park's Ribbon Cutting Ceremony was a great reminder of how to mix business and fun. "You can't help but smile when you see everyone bouncing."
Boylan praised the number of employment opportunities at Launch and its business model. "Launch provides jobs, jobs, jobs and a unique offering to a
Launch Trampoline Park
13348 Franklin Farm, Herndon
dynamic Rappaport shopping plaza. We need to use this model in other locations," Boylan said.
Also attending the ribbon cutting was Dan Flavin, CEO of GraceFulCare. He held the other side of the ribbon and said: "Between Launch and GraceFulCare we cover the spectrum of the generations. I have children and will be back with them to enjoy the trampolines, especially the Dodgeball and Ninja Course. We wish Launch the best of success."
On their website, the company describes what jumping on a trampoline is like and why trampoline parks are one of the fastest-growing entertainment trends. The company states trampoline jumping has the thrill of an extreme sport and the exercise of a high-intensity workout while appealing to people of all ages and fitness levels. These factors, along with its indoor sports and family entertainment facilities make it part of one of the fastest-growing amusement trends.
According to their website, Launch Trampoline Park/Herndon will be offering various programs, geared to different ages and interests. One such program is Friday's Teen Nights that allows endless jumping, dodging and dunking. It is open to ages 13-19. Another program geared to the younger set is Toddler Time. It is Tuesdays and Fridays from 10 a.m. until 2 p.m. and is open for children 5 and under.
Multiple new programs are coming soon, including one open exclusively to jumpers with special needs along with their families. The program will provide a quieter time in a sensory-friendly environment limiting strobes and audio volume in a non-threatening environment.
An Adult Night is also on the agenda. It will be open exclusively to jumpers 18 years of age and older and is billed as "the perfect time for adults to let out their inner child."