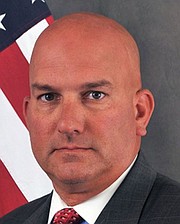 Police Benevolent Foundation Establishes Fund
An account has been established under the Police Benevolent Foundation entitled the "Detective Paul 'Tony' Basham Memorial Fund." Donations can be made through the account link on the Police Benevolent Foundation's website at www.pbfi.org. All donations made to this memorial fund are tax-deductible, and 100 percent of the money will go to Detective Basham's family. The Police Benevolent Foundation is a tax-deductible 501(c)(3) organization established by the Southern States Police Benevolent Association, Inc. (SSPBA) in 2005.
Paul Anthony "Tony" Basham of Centreville died on Aug. 28, 2017.
He was a beloved husband, father, brother, son, police officer, friend, and coach. He was born on Feb. 6, 1970. After high school graduation, he served in the United States Marine Corps. Stationed at Camp Pendleton and the Marine Corps Recruit Depot San Diego, he served as a member of the Military Police.
In 1994, he continued his career in public service by joining the Fairfax County Police Department where he served for over 20 years at the McLean District Station.
His passions were family, friends, community, and baseball.
Those who were fortunate enough to know him, may have been lucky enough to see his spark. This was most evident when he looked at his loving wife of 22 years, Marci, when you saw him with his children, and when he was giving of himself through his many hours of coaching and of community service.
Everyone who knew him called him a friend.
He is survived by the love of his life, Marci, their adored sons, Mitchell and Patrick, parents Cynthia Lee (Ferrebee) and James Terrell Basham, sister Jennifer Anne Lescallett, and his treasured entire extended family.
A celebration of life was held on Thursday, Aug. 31, 2017. Service followed at Fairfax Memorial Funeral Home, Fairfax.
A reception was held immediately following services at the Fairfax County Police Association located at 5625 Revercomb Court, Fairfax
In lieu of flowers, memorials may be made to SYA LL (Southwestern Youth Association Little League) Scholarship Fund, Care of SYA, PO Box 471 Centreville, VA 20122.