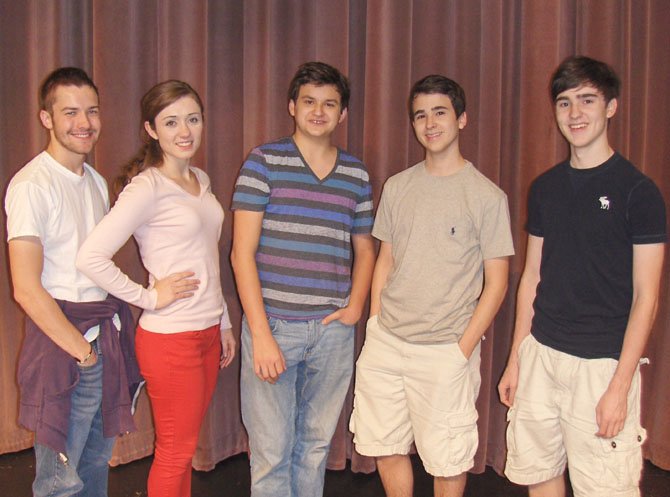 The local community knows how talented Westfield High's theater students are; now, so do people in the rest of the state. The young thespians won the school's first-ever Virginia Theatre Association (VTA) competition, beating out 44 other schools statewide.
The event was held Oct. 26-28 at the Reston Hyatt, and Westfield's victory propels its actors to sectional competition, March 6-10, in Louisville, Ky. There, they'll vie against some 30 other first-place winners from across the Southeastern U.S.
Westfield performed the one-act play, "The Hothouse," by Harold Pinter and were onstage 45 minutes. And besides the overall championship, students Mitchell Buckley and Madeleine Bloxam took home All-Star Acting awards.
"I'm very proud of the work the students did, especially since it was a student-directed piece," said Westfield Theater Director Susie Pike. "They tackled difficult material — absurdist theater, which is very mature. So it was a great learning experience, and one of my goals here in the department is to provide as many learning and leadership opportunities as I can."
All the actors are students in Pike's Theater III and IV classes. Buckley, a senior, portrayed Lush, an alcoholic and a staff member at a mental institution. The play's about the staff, plus a rape and murder that happen there to two of the patients. At the same time, there are power struggles between the staff members.
"Lush is insubordinate and wants to cause trouble," said Buckley. "It was fun to get into character because I did all these physical things like picking at my nails, and I had a ridiculous laugh."
CALLING WESTFIELD'S VICTORY "awesome," he said, "It was the first time our school ever won, so it was cool. We all had such deep characterization, and I think that impressed the judges. We won a giant, glass trophy."
Classmate Bloxam played Miss Cutts, describing her as "the sultry secretary who's sleeping with most of the institution's staff. All her actions are very absurd; she's an exaggeration of the easily jealous woman. She seems to throw herself at any man on staff but, at the same time, she has this dark side — which you see in how she treats fellow staff member, Lamb."
Bloxam said it was a challenge "getting comfortable having more intimate scenes with my peers in the cast. But everyone was dedicated to the entire process and we really worked hard for our award."
Still, she was "shocked" when Westfield won the competition because "theater conferences are always a tossup regarding what the judges are going to like, and I'm grateful that they found our piece both appropriate for our school to do and presented well. I don't think a lot of schools try to grasp absurdism in their shows, so I think the judges were surprised by our selection and that we were able to understand and interpret the smart and clever dialogue."
Directing the show was senior Alex Mann. "In most absurdist plays, the characters do crazy things and ridiculous things happen, but people pay no attention," he said. "But in this one, the characters begin to notice. The story is focused on the staff and, at the end of the play, the audience starts to realize the staff is as crazy as the patients."
He called directing "fresh and new" for him because he'd never before formally directed. However, said Mann, "I found it to be more instinctual because I'd done a lot of acting, so I know what it's like and what an actor wants to hear. I also know how to convey an idea so the actors understand it easily."
Although he thought Westfield would do well at the VTA event, he didn't expect to capture the top prize "because there were so many schools. I was excited even when we made the top four; I would have been happy with that. It's a tough competition, so to win the first-place award was a resounding success."
Mann believes their play stood out from the rest because of the material and because "every actor is allowed to have such a diverse emotional range in this show. And they all pulled it off wonderfully."
Portraying Lamb was junior Julian Sanchez. "He's the play's sacrificial lamb," said Sanchez. "He's a lock keeper on the staff, is very awkward and shy and is looking to make friends among the staff. I loved playing Lamb because it was such a departure from any of the roles I ever played. He's only in two scenes, but one of the great, emotional climaxes of the show is when he's electrocuted."
Sanchez said everyone connected with the show was so happy to win the competition. And, he added, "I think the judges liked seeing a high school taking on such a different piece of theater because of the absurdism and mature content."
His twin brother Brandon played a staffer named Gibbs. "He's a confidant of the head guy of the institution," said Brandon. "On the surface, he seems diligent, obedient and hardworking, but all he really wants is to be in charge. So he has a plan to take over the institution and puts it into action throughout the play."
Brandon had fun playing "the most evil of the characters. I usually play good-natured characters, so it was a change of pace. I got to physically fight with people."
When Westfield was announced as the winner, he said, "It was a really cool moment — almost disbelief that we won it; we were all kind of shocked. But it was probably the only absurdist play at the conference, our acting was truthful and brave and we were able to pull off this challenging show."