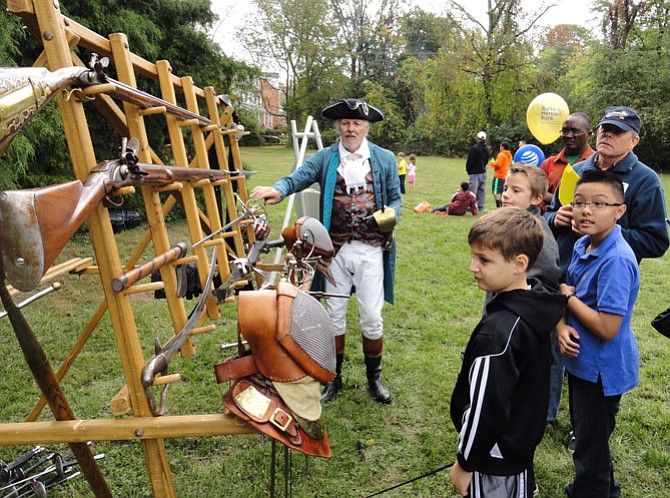 The leaves are starting to change colors and the weather's turning cooler. That means it's time for the 23rd annual Centreville Day celebration. It's slated for Saturday, Oct. 17, from 10 a.m.-5 p.m., in Historic Centreville Park, 5714 Mount Gilead Road (off Braddock Road, across Route 29 from the IHOP).
The event features a parade, a pet pageant, singing and dancing to children's games, food and crafts. And if that's not enough, there'll also be swordsmen and a tightrope walker.
"Centreville Day is the perfect event for families," said organizer Cheryl Repetti, president of the Historic Centreville Society. "There are tons of free activities for children, including a slide and a rock-climbing wall and tug-of-war. There's also live entertainment, a food court, a neat little museum and other historic buildings to explore. It's a really awesome day, every year — you've got to go."
Westfield High senior Sara Berrios will start off the festivities by singing the National Anthem at the 10:15 a.m. opening ceremonies on the Centreville Stage in front of St. John's Episcopal Church. Then Supervisor Michael R. Frey (R-Sully) will welcome everyone, and the Centreville Citizen of the Year and sponsors' awards will be presented.
"Centreville Day is a great place to take kids," said Repetti. "Follow the Trick-or-Treat Trail through the Marketplace where children can collect goodies and parents can meet crafters, local businesses, churches and nonprofit organizations. For the fifth consecutive year, gold sponsor G & C Tire & Auto Service will provide wrist bands for free children's rides. And, living out every child's dream, G & C owner Gregg Caldwell is also bringing his own fire engine."
In addition, the women of Alpha Delta Kappa will host several, fun and old-fashioned children's activities in their Readin', Writin' and Recess area on Mount Gilead Road, including face-painting, tug-of-war and sack races.
This year's Centreville Day theme, "Safe Homes and Families," ushers in a new safety fair featuring representatives from the Fairfax County Sheriff's Office and Poison Control Center. It'll be held on the lawn beside the Spindle Sears House, and information about firearms safety will be presented by KYS Training.
Stressing that Centreville Day has something for everyone, "from pets to pirates, from dipping candles to climbing walls," Repetti said it's also "gone to the dogs, cats, birds, snakes, lizards, rabbits and mice."
That's because the Centreville-Chantilly Rotary Club is sponsoring a pet pageant for pets of all kinds. It'll begin at 10:45 a.m. at the stage; registration is $10 per family, and families are welcome to bring more than one pet. Prizes for Most Unusual Pet, Most Creative Costume and Best in Show have been donated by local merchants such as Pender Pet Retreat at Dulles Gateway, the Centreville Pet Supplies Plus, Groom 'n Glory and Michelle Thomas Studios.
The wife of U.S. Rep. Gerry Connolly (D-11) will be among the judges. Proceeds from the pet pageant will go to the Friends of Fairfax County Animal Shelter and to Rotary Foundation Scholarships. Registration forms are available at www.CentrevilleVA.org, or contact Adam Smith at asmith51@verizon.net or Cammy Gawlak at cgawlak@verizon.net.
Pets will also be welcomed and blessed at the tent on the lawn of historic St. John's church. The Rev. Carol Hancock will be blessing pets throughout the day while the church sells hot coffee. And some shelter animals in need of a home will greet visitors at the Friends of the Animal Shelter tent on the lawn beside the Sears House.
It wouldn't be Centreville Day without a parade organized by American Legion Post 1995. At noon, sheriff's motorcycles and fire engines will lead a parade of dancers, Scouts and people wearing inventive costumes. Those who just want to walk or bike along the route and wave to their neighbors are also welcome in the parade. Registration is free online via www.CentrevilleVA.org.
Parade participants will assemble at the end of Wharton Lane at 11:30 a.m. and pass by the review stand in front of St John's around noon. It will then travel through the heart of the Historic District along Mount Gilead and Braddock roads. Costumes either historic or Halloween, are welcome. Prizes will be awarded. For more information, contact the American Legion's Steve Hunter at geoshunter@gmail.com.
Live entertainment is planned during Centreville Day, with a variety of local talent performing on stage. New this year will be sessions of Zumba and Hot Hula, led by Patricia Perlingeiro and Josefina Smith, respectively, plus a performance by the Fairfax Choral Society. The West Campus Lyric Choir and Centreville's brand-new South Campus Pilot Choir will also entertain. The children in these choirs range from ages 7-11 and are led by directors Miranda Lansberry & Kristen Jorde.

Returning groups include The VaDeatles, who'll join deejay Myra Flemister at 11:30 a.m. Requested by fans throughout Northern Virginia and returning for the fourth time to the Centreville stage, the band features vocalists who are teachers at Stone Middle School. In addition, the senior members of the Korean Senior Center Chung-Choon Band, whose name mean "young" in Korean, will play familiar favorite tunes on their harmonicas.
Also returning to Centreville Day will be the ballads and sea chanties of Pirates for Sail, performances by the Centreville Dance Academy, Harmony Road Magic Hand Orchestra and the Creative Dance Center. And demonstrating martial arts will be the Northern Virginia Wushu Academy of Chantilly and the Hallelujah Tae Kwon Do Demonstration Team.
History will also come alive during Centreville Day. Attendees venturing off the main road will discover the historic Mount Gilead house, open for tours. And performing on its lawn will be tightrope walkers, swordsmen and carpenters. "Signora Bella, an equilibrist, will amaze all with her skills on the slack rope," said Repetti. "And the volunteers of Sully Historic Site, dressed in period costume, will help children dip candles and make simple toys."
Charlie and John Anderson, billed as Swordsmen of the 18th Century, will teach the delicate art of parry and thrust while historic carpenters Ken Garlem and John Shafer from the Fairfax County Park Authority will show people how to safely use a draw knife.
Visitors will also meet volunteers dressed as historic figures, such as Cornelia Peake MacDonald and the Irongate bakers. They may also board the History Train to the Old Stone Church where living-history performers Dean Howarth and students from McLean High will show off curiosities and demonstrations drawn from 18th-century science.
"Be sure to visit the Old Stone Church, which served as a hospital during the Civil War and is now serving baked goods and a simple ploughman's lunch," added Repetti. "Across the street, peek in at the Havener House and enjoy the Stuart-Mosby Museum collection of items related to cavalrymen JEB Stuart and the Grey Ghost, John Mosby."
Historic tours will also be available at St. John's Episcopal Church. And an afternoon Ghost Tour will be offered for a nominal fee via the Park Authority. See www.FairfaxCounty.gov/parks/ecl.
When visitors have worked up an appetite, the food court will offer various items, including pulled pork from Smokes Barbecue and chicken sandwiches from Chick-fil-A.
The event benefits the Friends of Historic Centreville, a nonprofit that organizes Centreville Day in partnership with the Park Authority to encourage residents to discover the Centreville area's rich history. Free parking and shuttles will be available at The Trinity Centre, 5860 Trinity Parkway, off Route 29.