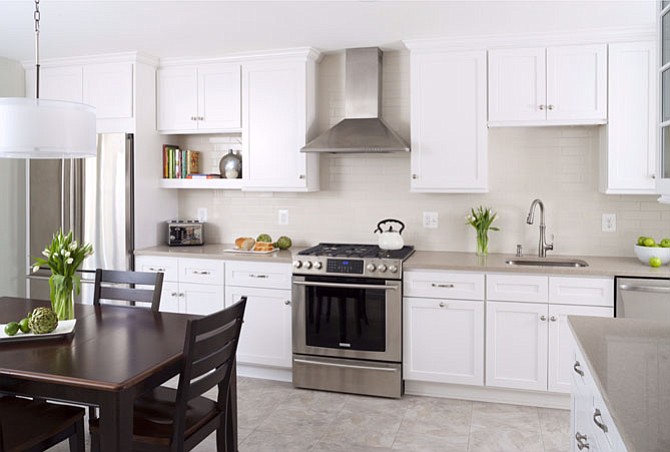 When Janet and Frank McDermott purchased their Alexandria home in 1997, it was already outdated. Built in 1970, the home had a layout that lacked the natural flow the couple wanted, particularly in the kitchen. They only recently got around to updating it, however.
"We hadn't had a chance to undertake big projects since we both worked full time," said Janet McDermott.
"We love to cook, and having all new appliances makes the task so much more enjoyable." — Janet McDermott
The budget-conscious couple decided to remodel the kitchen and wanted a design that was simple, clean and timeless. The kitchen project made use of the existing space with only minor changes to the original blueprint.
In the original layout, the refrigerator was located in the middle of the room, disrupting the room's flow, so they relocated the appliance to the opposite side of the space. The new design incorporated a built-in microwave oven to free up counter space.
"The kitchen was very budget-oriented, so they didn't want to move things around that much," said Elena Eskandari of Case Design/Remodeling, Inc., who was tasked with creating the design. "Fortunately, the plumbing was already in a good location."
Eskandari optimized the existing layout of the cabinetry and saved money by adding a floor-to-ceiling pantry cabinet, rollout shelving and open shelves for easy access to cookbooks.
"We love to cook and having all new appliances makes the task so much more enjoyable," said Janet McDermott. "The new layout of the kitchen provides a great deal of cabinet space and our kitchen looks quite a bit bigger."

The new pantry has rolling shelves, "so that we can pull out the drawers and see what we have," said Janet McDermott. "Our old pantry did not have this feature."
Flanking the microwave are glass-front cabinets, which give the McDermotts a space to showcase their collectables. The kitchen finishes include a quartz countertop, ceramic backsplash tile with crackled glazing, and a luxury vinyl tile floor with acrylic grout joints.

"We wanted to keep the materials neutral so that they last a longer time," said Eskandari. "Quartz countertops are durable and don't stain. We used wide Shaker-style cabinetry with beading, which is popular right now. And luxury vinyl tile had a bad rap at one point, but now it's made to look like real tile and is more budget friendly. Many of the kitchen finishes were budget-oriented, but well-coordinated to create an aesthetically pleasing and cohesive look."