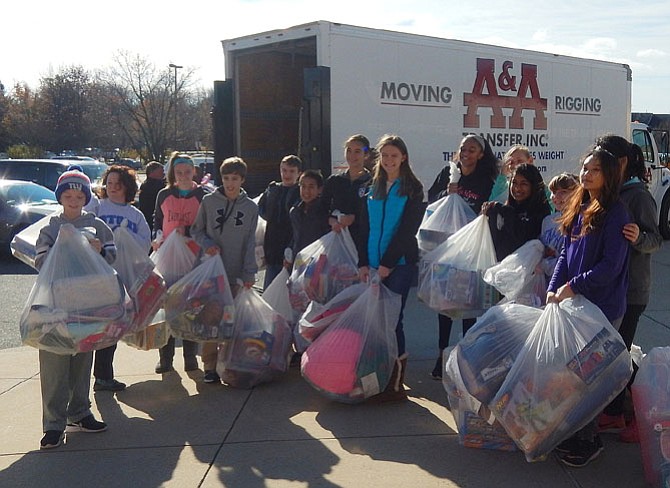 Centreville — Our Neighbor's Child (ONC) volunteers are preparing for a 26th season of coordinating the collection and delivery of holiday gifts for children from nearly 700 financially struggling families in western Fairfax County – predominantly in Centreville and Chantilly.
It's a huge task, and the nonprofit ONC can't do it alone, so it needs members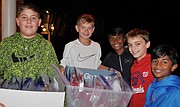 of the community – individuals, groups and businesses – to open their hearts and lend a hand. Several volunteer opportunities have been posted on ONC's Website, www.ourneighborschild.org.
Our small, all-volunteer team has worked for months organizing things to include our whole community in this giving effort. There aren't words to adequately describe the feeling you get when you can make a difference and make life a little better for another person, and we love sharing that experience.
It is not always easy, but we have great, "unsung heroes" who return year after year. We could use a few more volunteers in our office, plus many volunteers on packaging and delivery days, for this effort to continue. And we really need people to bake cookies; each family will receive a mixed assortment and we'll be delivering thousands of cookies.
ONC provides new toys, books and games, as well as warm coats, blankets and other clothing for children who've requested those items. Children's gift wishes have been distributed to Giving Trees at local churches, schools and businesses, and wishes are still available on trees at the Walmart stores in Chantilly and Fair Lakes.
How to Help
Whenever possible, ONC stretches its donation dollars by ordering some gifs from online sites that provide discounts to nonprofit organizations. Helmets from Helmets R Us and books from Firstbook are just a few examples of the resources used by ONC to stretch every donation dollar.

Donations are still greatly needed so ONC may purchase the needed items to fulfill children's wishes. People may contribute via PayPal and Venmo links on ONC's Website, or mail checks payable to ONC to: Our Neighbor's Child, P.O. Box 276, Centreville, VA 20120.

Drop off new toys, games, books, coats or other clothing at Stone Middle School, 5500 Sully Park Drive in Centreville, next Saturday, Dec. 9, from 9 a.m.-noon. Members of the National Junior Honor Society will be out front to collect them.

Choose wishes from any Giving Tree, purchase the items and then turn them in by Tuesday, Dec. 12.

Adult Volunteers are needed to help set up the ONC packaging warehouse on Dec. 11, 12 and 13, from 3-7 p.m.

Volunteers are needed to work two-hour shifts on packaging day, Dec. 14, from 9 a.m.-7 p.m. Talk your boss into making it an office tradition.

Many people are needed to bake homemade cookies that get distributed with each family's huge bag of gifts. Sign up on our Website and our coordinator will send details.

Delivery day volunteers are also needed on Sunday, Dec. 17, from 1-4 p.m. We can collect and package the gifts, but we can only deliver to 700 homes if many volunteers are willing to help.
ONC's volunteers have been busy since late summer to prepare for new challenges to its efforts. These included communicating with and training more than 80 individual, referring agents from 27 schools in the Centreville, Chantilly and Westfield pyramids. Receiving gifts from ONC will be students in the following schools:
Centreville Pyramid
Bull Run Elementary School
Centre Ridge Elementary School
Centreville Elementary School
Powell Elementary School
Union Mill Elementary School
Willow Springs Elementary School
Liberty Middle School
Mountain View Alternative Learning Center
Mountain View High School
Centreville High School
Chantilly Pyramid
Brookfield Elementary School
Greenbriar East Elementary School
Greenbriar West Elementary School
Lees Corner Elementary School
Oak Hill Elementary School
Poplar Tree Elementary School
Rocky Run Middle School
Franklin Middle School
Chantilly Academy
Chantilly High School
Westfield Pyramid
Cub Run Elementary School
Virginia Run Elementary School
Deer Park Elementary School
Floris Elementary School
London Towne Elementary School
Lewis Coates Elementary School
McNair Elementary School
Stone Middle School
Westfield High School.
We hope people will visit our Website and share the information there with others. And hopefully, we can make this holiday season a joyous one for everyone in our area.