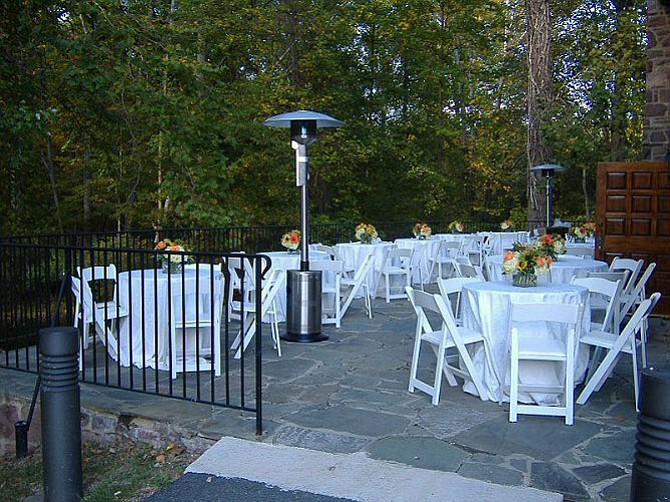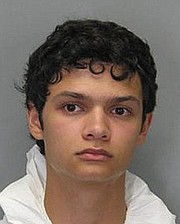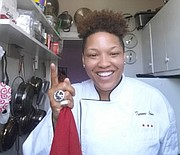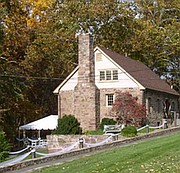 The criminal case against Kempton Bonds involved anger and hostilities at a wedding reception. Those two elements derailed his murder trial, too — but this time, the unpleasantries were among the jurors.
Bonds, of Clifton, is accused of the Aug. 6, 2016 stabbing death of Tyonne Johns at Cabell's Mill in Ellanor C. Lawrence Park. But after hearing hours and hours of testimony during his five-day trial, July 11-14, in Fairfax County Circuit Court, his jurors hopelessly deadlocked Friday night and a mistrial was declared.
Johns, of Washington, D.C., was 35 and the wedding's caterer at the time of the tragedy; Bonds was 19. A 2015 Robinson Secondary School graduate, he was a seasonal employee of the county Park Authority. According to the wedding party, he was such a stickler for the rules that he and they clashed throughout the evening.
Bonds took down decorations not allowed to be taped to the walls of the historic building and removed fake rose petals from the grounds outside because they weren't biodegradable. He also turned off the music at 9 p.m. when, according to the contract, it had to stop — an hour before the event ended at 10 p.m.
He and Johns never argued until it was cleanup time and her folding chairs were being separated from those provided by the Park Authority. But during the course of the wedding, Bonds felt so threatened by the others that he began taping them on his phone. He even called his supervisor for advice, as well as the police, saying he feared for his wellbeing.
Bonds videotaped the eight minutes before and after the stabbing, and the court watched that tape several times and heard what was said by everyone — including the threats and cursing of the wedding party and Johns toward Bonds. The bride, Camellia Sutherland, testified that she normally didn't talk that way, but did so "after five hours of frustration."
When Bonds told her the music had to stop at 9 p.m., she said, "He was sarcastic and rude to me and asked if I wanted to see a copy of the contract." And, she added, "My dad was upset we couldn't have our father-daughter dance because the music had been turned off."
Johns's chairs were being loaded into a U-Haul around 10:35 p.m. Until then, asked defense attorney Peter Greenspun, "Had you ever heard Bonds raise his voice or threaten anybody? Was he cursing, assaulting or touching anyone?" Sutherland said no.
"Johns said [to him], 'I'll smack you, I don't care. I have bail money, I don't give a f---,'" said Greenspun. "Did he say anything?"
"No," replied Sutherland. "He just stood there with a smirk on his face. I was angry." Sutherland also acknowledged that, as heard on the tape, she, too, was cursing at and threatening Bonds.
"You called him a 'f---ing idiot,' right?" asked Greenspun. Yes, she replied. "And your husband said he was going to mess him up next time he saw him at Bull Run Park?" Yes, answered Sutherland. "You said, 'Boy, I'm about to f--- you up — and on my wedding day — I swear to God.'" Again, she said yes.
"Who said he was going to follow [Bonds] home — your father?" asked Greenspun. "Yes," said Sutherland. She also admitted that she and her husband threatened Bonds that they'd file a lawsuit against him and get him fired.
Sutherland is white and her husband is black and, on the tape, her husband calls Bonds a racist. Sutherland said they'd reached that conclusion because they saw Trump bumper stickers on a vehicle they thought was Bonds' car. But they had the wrong car and both Bonds and his mother later testified that — not only isn't he racist — but he's mixed-race, himself, half white and a quarter each black and Cherokee Indian.
Tensions boiled over when, on the patio, someone asked how many chairs the Park Authority provided and Bonds said, "80." Johns reacted by walking swiftly toward Bonds and telling him to "Shut the f--- up." Both Sutherland and another guest testified that they never saw Johns touch him or pin him against the patio railing.
But during his four hours of testimony, Bonds said Johns grabbed him around the neck and was choking him. He said he only stabbed her to get her off him and save his life.
Police Officer David Stewart testified that he responded to the venue after Bonds's non-emergency call to police, around 9:20 p.m., about disorderly conduct there. "He stated he was being harassed by two of the wedding guests," said Stewart. "It was clear there'd been an argument … I told Bonds to just stay away from the wedding party until it was over."
Stewart also said he'd told the teen the police would stay there, just out of sight. But when they had to respond to a traffic accident on Route 50, they left suddenly without telling him. This fact became critical later on when, after the altercation with Johns — not realizing he'd stabbed her fatally and believing himself to be the victim of an attack by her — he shouted for the police, and they weren't there.
Medical examiner, Dr. Meghan Kessler, performed the autopsy on Johns. She said Johns sustained two, quick, stab wounds to the left chest. "Both contributed to her death," said Kessler. "One went into the left lung and heart."
Bonds's mother, Madeline Smith, testified that Bonds's father was a custom-knife maker and had made that folding knife. When he died, three years ago, she gave it to their son as a keepsake. But since they also had horses on their property, she said Kempton used that knife regularly to make repairs and cut open bales of hay or boxes. She also noted that, on July 16, 1994, she was married at Cabell's Mill.
Bonds testified that, when he went there that day, he was excited because it was his last day of work before vacation and the start of college at VCU. He also said that, in the 35 other events he'd handled for the Park Authority, he'd never had any problems and no one had complained about him.
Explaining how he was threatened that night, Bonds said one person said he was going to wait until everybody was gone and follow him home. He said another one picked him up from behind. Bonds called his supervisor, Zane Stivers, and told him he was going to call the police "because I didn't feel safe there by myself." But no one from the Park Authority came to his aid in person, and the police who responded left.
Later, while the chairs were being loaded, Bonds was leaning against the patio railing with his arms behind him, cell phone in left hand. He said he was standing where the police had earlier told him to stand, while people were "yelling at me about how awful I was and how I'd ruined the evening." Noting that the bride and groom had been the most verbally abusive toward him all night, he said he was surprised when the 60-pound-heavier Johns suddenly joined in and walked quickly toward him saying, "Boy, I'm gonna knock you out."
"I was confused — it wasn't her wedding," said Bonds. "And as a caterer, she knew what it was like to deal with a bad wedding party. Her hands go up around my throat, she's pushed me and I can't breathe, I can't move. I could feel her thumb digging into my neck. I open the knife in my pocket and stab her to get her off me. The phone falls to the ground and I scream for the police and yell for the others to stay away from me."
He then called 911 to say he'd been attacked and asked police to come quickly. Bonds said he hadn't realized he'd wounded Johns fatally until he heard it over the police radio in the squad car following his arrest. When Greenspun asked him why he'd stabbed her, he replied, "Because she was trying to kill me."
Judge Daniel Ortiz told the jurors they could either find Bonds guilty of second-degree murder or voluntary or involuntary manslaughter and explained the differences between each offense. He also said they could find him not guilty if they believed the incident was self-defense.
In his closing argument on Friday, Assistant Commonwealth's Attorney Brandon Shapiro said Bonds talked to the wedding party in a disrespectful, not-intimidated manner and antagonized, taunted and baited the bride and groom on their special day. He also said the wedding guests weren't attacking Bonds, despite what he told the police.
Noting that second-degree murder is an intentional act done with malice by someone under the control of reason, Shapiro said, "Malice is taking that knife out of his pocket, jabbing twice and twisting up. [Bonds] never shoved, punched or kicked Johns; his first move was to go for a deadly weapon. He never stopped to see what would happen [after the first wound] — he went for death."
Regarding Bonds not being able to breathe, Shapiro said he was able to shout, "Get the f--- off me." For self-defense, said the prosecutor, Bonds had to "reasonably fear for his life or believe he's in danger of great, bodily harm. No one's yelling for her to get him and there's no evidence that she had a weapon. This is not a situation where deadly force is appropriate. It was not an accident — he did this with malice, and that's murder in the second degree."
But Greenspun said it was everyone else who was "vile and disrespectful" to Bonds. "They called him 'Boy,' in a condescending, verbally assaultive manner, but he never once raises his voice at them," said Greenspun. "[Yet] he had no reason to believe he'd be attacked by Johns.
"She launched herself at him with her arms up and going for his throat. Otherwise, her arm would have blocked the knife and she'd have been stabbed in the arm — and the medical examiner agreed. Johns is dead and that's a tragedy, but she brought the fray on, herself, and [the others] and their vile language incited her actions. What's recorded on the phone tells the facts of what happened, contrary to what the others testified."
But Shapiro said the others were telling Johns, "Ty, no," not egging her on. "At no time was Bonds significantly intimidated by these people," said Shapiro. "He had a knife on him, and that made him 7 feet tall."
The jurors deliberated six hours, but sent word at 7:45 p.m. that they couldn't reach a consensus and, therefore, any verdict. In fact, said the judge, there was so much animosity among them that "They're already no longer speaking to each other." He then had the jury brought into the courtroom, where the foreman said they'd "reached an impasse" they couldn't overcome.
Ortiz then declared a mistrial and Shapiro said the Commonwealth would retry Bonds, who remains on $250,000 bond plus house arrest. A new trial date will be set in August.