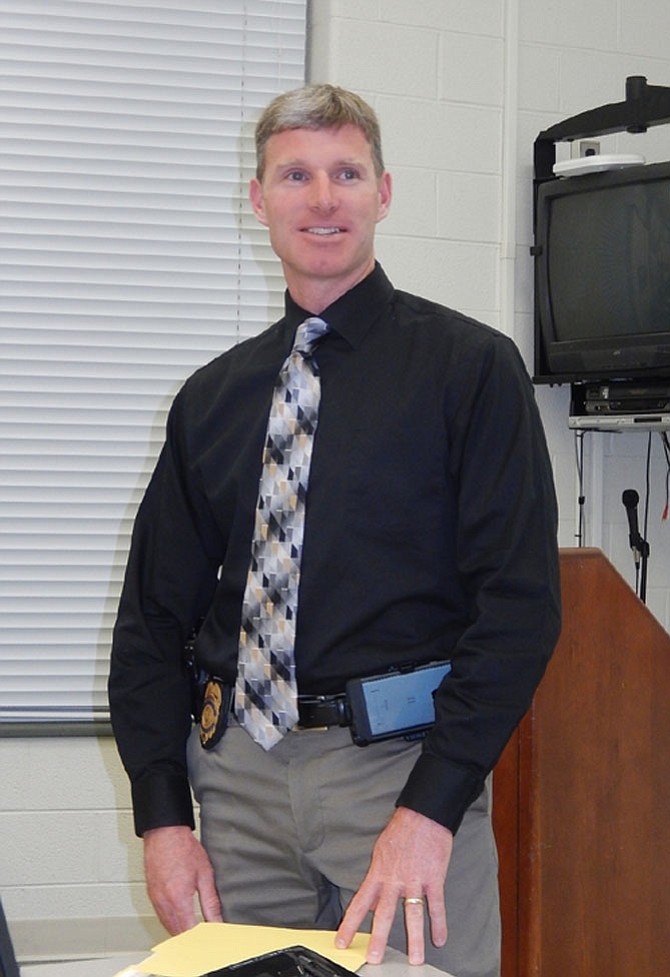 Overall, the Sully District is a pretty safe place; but bad things can happen anytime, anywhere. So local residents recently received some tips about how best to prevent themselves and their neighbors from becoming victims of crimes.
Police Lt. Todd Kinkead, head of the Sully District Station's Criminal Investigations Section, addressed a recent meeting of the station's Citizens Advisory Committee. His department consists of four detectives plus him, and he shared information with those in attendance.
"It's a target-rich environment," he said. "There are lots of vehicles, so there are lots of opportunities for car break-ins, all year 'round. People are leaving their purses, checkbooks, iPads, laptops and firearms in their vehicles."
"They even leave their keys in the center console with their garage-door opener — while the vehicle is parked in their driveway," continued Kinkead. "That's just a recipe for disaster. So take the valuables out of your car and lock it when you leave it. And if you see something strange — such as a different person at a friend's car — call us."
He also discussed incidents of destruction of private property in the local area. Between Oct. 24-30, 2017, in Centreville's Crofton Commons community, he said, someone shot the passenger side and/or front windows of 14 vehicles with a BB gun. Eleven of these vehicles were vandalized between Oct. 24-26, and the other three were vandalized between Oct. 27-30.
Then, said Kinkead, "Between Nov. 3 and 4, driver's-side tires were slashed on three vehicles in Crofton Commons, overnight. And a laptop was stolen from that same street, at the same time."
Regarding other types of offenses, he said the Sully District has some burglaries and larcenies, as well. But, he added, "We're toward the bottom of crime in the county, so this is a very safe area. We handle the burglaries and grand larcenies, but we're trending down from 2016."
But still, Kinkead told the crowd, "Keep your guard up. You guys give us good tips and good leads — for example, license-tag numbers of suspicious vehicles. And it's great to have that type of forensic evidence to help us make cases. So those tips are so critical."
And each traffic stop brings with it the potential for danger, as well as an opportunity to prevent a future crime from happening. Just recently, said Kinkead, "A gentleman was doing 105 [miles an hour] down I-66. He was coming from a court case for reckless driving. My detective stopped him and discovered that, inside the vehicle, he had all sorts of police garb — including a tactical vest and an AR-15 assault weapon."