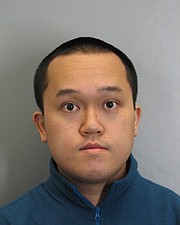 "She died on the side of I-66 while he fled the scene." — Kathleen Bilton, Assistant Commonwealth's Attorney
"He's a good, young man who made a tragic mistake." — Peter Greenspun, defense attorney
"I'd give anything to take back that night." — Khoa Nguyen, defendant
No matter what sentence Judge Robert Smith handed down last week, the damage was already done: A 37-year-old mother of four was dead and a young Centreville man was about to learn his punishment for causing her death. Nothing would ever bring her back, yet her family wanted some measure of justice.
And in the end, so did the judge. On Friday, April 27, in Fairfax County Circuit Court, he sentenced Khoa Do Dang Nguyen, 24, to a year in jail for the Oct. 8, 2016 hit-and-run death of Yesenia Esmeralda Funes.
In this case, the state sentencing guidelines called for a range of one day to six months. But Assistant Commonwealth's Attorney Kathleen Bilton told Smith, "I'm asking you to exceed the guidelines. The victim-impact letters make clear the full magnitude of this tragedy — four children lost their mother, a husband lost his wife, and parents lost their child."
Funes, of Manassas, was the mother of two boys and two girls, ages 6-19. After Nguyen pleaded guilty, Jan. 16, to felony hit-and-run, Bilton presented details of the incident to the court. She said the vehicle crash happened around 2:10 a.m. Funes had a black Toyota Solara convertible, and Nguyen drove a Toyota Corolla.
"Yesenia Esmeralda Funes was driving on I-66 west, around mile-marker 56, when she pulled her vehicle over to the right shoulder and stopped," said Bilton. "She then got out and retrieved a water bottle from the trunk. As she was approaching her driver's-side door, she was struck by the defendant's vehicle."
Bilton said Nguyen turned himself in to the Virginia State Police, two days later, giving them a written statement. "He wrote that he'd fallen asleep at the wheel and knew he hit something," said the prosecutor. "His windshield, bumper and side mirror were damaged."
"He wrote that he'd left work at a restaurant around 12:30 a.m. and went to eat at the Silver Diner in Merrifield, leaving there around 2 a.m." continued Bilton. "He said he didn't know what he'd hit; he thought it might have been a car because his vehicle had bounced off something. But he was tired, so he kept driving home."
Bilton said Nguyen later discovered that his side mirror and part of his bumper were gone. "He talked about it with his parents, who encouraged him to tell the police what had happened," she said. "In addition, debris at the scene matched that of the 2015 Toyota Corolla he was driving, and DNA profiles of Funes were found on his car."
In court last Friday, she told Smith, "Yes, this was a terrible accident, and no racing or speeding was involved. But he struck and killed Mrs. Funes. He was tired, had the music turned up loud — trying to stay awake — but he couldn't, and he fell asleep behind the wheel. That was his choice to drive when tired — and it had tragic consequences."

Furthermore, Bilton didn't buy Nguyen's statement that he didn't realize his vehicle had struck a car. And she said he should have understood that a person might have been inside it.
Instead, said the prosecutor, "He didn't stop, and he only went to the State Police at the urging of his parents. He fled the scene without stopping to see if he'd hurt someone. He hit Yesenia Funes because he was too tired to drive safety. She died on the side of I-66 while he fled the scene."
Defense attorney Peter Greenspun, however, tried to make his client's actions that night relatable. "We've all been on the road when we're tired — when you nod off and something wakes you up and you go, 'Wow, that was close,'" he said. "[In this case], there was the impact and the noise, but there was no fleeing."
He said Nguyen wasn't a thoughtless or uncaring person. "He works 50-60 hours a week," said Greenspun. After leaving the Silver Diner that night, he was headed home to sleep. "There's no evidence that he strays from lane to lane. And in a compilation in the intersection of the circumstances of life, he nods off at the exact moment Yesenia Funes gets a bottle of water. One-tenth of a second, either way, and this wouldn't have happened."
So, said Greenspun, "While it's understandable that the Funes family expects a harsher sentence, [Nguyen] has already served three months in jail. And as a convicted felon, this will affect his life." Greenspun then asked the judge to consider a sentence of time served, but with a "significant number" of community-service hours added on.
"[Nguyen] had zero intent [to kill or injure the victim]," said Greenspun. "He didn't hide, or run his car to a body shop [to be quickly repaired]. He's a good, young man who made a tragic mistake."
But Judge Smith said Nguyen stated that, after the accident, he bought a cover for his car. "There's only one reason why you do this — to cover up something," said Smith. "This lady was taken from her family far too soon."
Then, right before sentencing, Nguyen stood and addressed the court. "I want to tell the Funes family how sorry I am for everything," he said. "I'd give anything to take back that night. I'll have to live with that, the rest of my life. I promise you that I'll work hard to be a productive member of society. I accept full responsibility for what I did."
Smith then exceeded the sentencing guidelines and ordered Nguyen to spend a year in jail. He also gave the defendant three additional years behind bars, but suspended all this time and placed Nguyen on three years' post-release supervision. Nguyen's driver's license was suspended for a year, as well.
Greenspun then asked the judge if his client could serve his time via either the work-release program — which is a combination of outside employment plus jail — or home, electronic incarceration. Smith had no objection, so the final say will be up to the county Sheriff's Office.