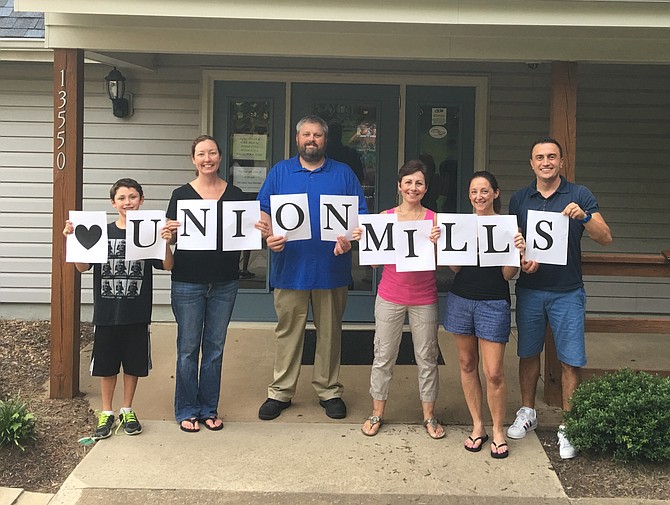 Union Mills community held its annual pool party on Saturday, Aug. 25. More than 100 residents were presents at the event and weather was in the organizers' favor.
Union Mills community would like to express a big thank you to all the pool party volunteers who worked hard to offer the community a great experience: Ingrid Kilmer (event captain, gift card solicitation champion, DJ and MC), Mike and Alexis Payne (shopping and food caterer champions, help with grilling and event decorations), Amy Mount (kids pool games and event coordination), Janet Lopez (kids pool games), Mike Shipley (parking and event advertising arrangements), Bogdan Feldrihan (Social Committee Chair) and also to the Union Mills property manager Natalie McCracken from FirstService Residential for the great help with advertising the event. The event agenda included a martial arts demonstration, kids pool games, raffle prizes from the event sponsors and and a visit from Kona ice truck. This event was a great opportunity for the community to come together and celebrate the end of the summer.
Union Mills community would also like to express the same big thank you to all the event sponsors: Trader Joe's, Giant Food, Glory Days, Rosemary's Thyme, Shilla Bakery, Miamore Beauty City, ATA Martial Arts, Panera Bread, Popeye's, Manhattan Bagel, Outback Steakhouse and Bowlero Bowling. The sponsors offered a total of estimated $1,385 value back to their nearby community either as gift cards, food or products.
Here are few words about our community: Union Mills is a well-established neighborhood of 94 garage-unit townhouses and 217 non-garage townhouses and 57 single family homes tucked in the southwest corner of Fairfax County, Virginia. Our 92 acres are located just off either side of Union Mill Road between Lee Highway (Route 29) and Old Braddock Road. The community sits in a park-like environment with many broad open spaces filled with decades-old trees and carefully tended lawns and landscaping.
The residents of Union Mills enjoy a community swimming pool staffed with lifeguards which is open from Memorial Day through Labor Day. The pool and bathhouse were completely renovated for the 2004 season and many other improvements were made in 2011. We also have a tennis court, walking trails connecting to the Colonnade Shopping center, a bike/jogging path alongside the natural wetlands, and a well-maintained tot lot with new equipment. Local schools are: Union Mill Elementary, Liberty Middle, Centreville High School and St. Andrews Catholic School. There are also several day care centers nearby.
Union Mills couldn't be better located for shopping and dining out. We are in easy walking distance of the shops at The Colonnade at Union Mill which is anchored by a Giant Supermarket. Union Mills is very favorably situated for commuters and travelers. Fairfax County Parkway and I-66 are less than 10 minutes away, and Dulles International Airport is approximately 25 minutes north on Route 28.
In short, Union Mills is…a great place to live and play. If you want to learn more about our community, you can read more here: http://www.unionmills.com.