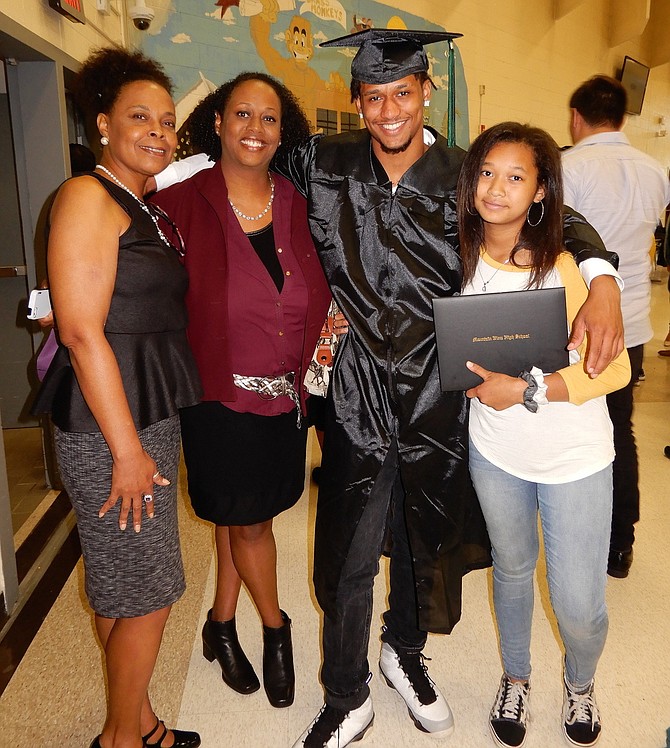 A Mountain View High graduation is always a mixture of joy, tears and pride – joy because of the students heading toward their future, tears because of the heartfelt speeches describing all they've overcome, and pride because they've succeeded. And the June 11 ceremony at Centreville High was no exception.
"This is our 46th commencement ceremony," Assistant Principal Claudia Pirouzan-Jones told the students. "Since our first one in 1996, thousands of Mountain View grads have walked across this stage. And just like them, you're experiencing pride, excitement, relief and, perhaps, a bit of sadness that high school is over.
"You all share the common bond of being part of the Mountain View family, and our motto of 'Family, love and respect' is living and breathing inside you," she continued. "And you all possess the character traits of perseverance, grit, intelligence and drive." Then, acknowledging their parents and other supporters who helped them along the way, she had the students stand and applaud them.
Next, Principal Joe Thompson addressed the students (see sidebar), followed by two student speakers who shared their own stories of struggle and achievement. The first was Jassiel Prince, who previously attended small, private schools in Bolivia and Costa Rica.
"My dad was the principal, so there was always lots of pressure on me, and I had to change myself to be accepted," she said. "Then when we moved here, I was relieved, but my base school said it would take me two years to graduate. So I came to Mountain View, but worried about fitting in and being accepted and, again, being someone not me."
PRINCE said coming to a new country is difficult, "But at Mountain View, I could be myself and people didn't judge me. The students and teachers made me feel like a family member. I made incredible friendships, especially with someone in my history class."
Noting that she also needed to focus on her education, she said, "I worried that I wasn't good enough to do well. But Mountain View gives you more opportunities to be successful, and now I'm going to college." Then, speaking directly to her parents, Prince said, "Mom and Dad, I'm honored and blessed to have you as parents. Thank you so much for believing in me. And thank you, Class of 2019."
The second speaker was Marjorie Mendez. "When I first came here and saw the motto, 'Family, love and respect,' I thought, 'Respect? Maybe,'" she said. "'But family and love?' You don't expect to find family and love in a school. Mountain View changed my life.
"I felt comfortable with my teachers because they listened to me and guided and counseled me," she said. "When I was struggling, they told me I was special, and they showed me by giving me their support and time. And they even checked up on me, asking, for example, 'Why weren't you in school yesterday?' or 'Why did you miss class?'"
At Mountain View, said Mendez, "I learned you can accomplish your goals if you believe in yourself. And I learned I could handle my problems and I could do more if I really tried. We are brave, we are strong, we are intelligent – and we can do anything we set our minds to."
"Many times, we wanted to quit, but we didn't," she told her classmates. "Mountain View gave us the opportunity, but we made it happen. Mountain View became my family and showed me they cared about me and believed in me. I'm truly glad I found Mountain View."
Then, before the diplomas were handed out, the school's Citizenship, Personal Achievement and Faculty awards were presented. The Citizenship Award is given to a student who's helped build a positive school community. And this year, ESOL Department Chair Erin Chubb presented it to Mendez, noting how much this young woman had helped others, both inside and outside of school.
The Personal Achievement Award goes to a student who succeeded academically and personally, despite having adult responsibilities, such as a job or a child. Career Center Specialist Janelle Lee presented it to Mieme Youn, who, said Lee, "overcame obstacles to succeed."
THE FACULTY AWARD is given to the student achieving the greatest academic and personal success, despite significant obstacles. This time, however, two students were honored. English teacher Howard Johnson presented the first one to Hawa Sid Camara.
"She's from Guinea and she cares deeply about the challenges of the young women there," said Johnson. "When she left, her grandmother told her to bring out the best in herself and in her community, and she took those words to heart. She completed Algebra II in two months and took pre-calculus online to improve her chances of getting into college."
He said Camara's counselor, Mike Todd, noted that, as soon as the school year started, she was in his office, talking about applying to college. "Her writing was strong, her projects were interesting and her sense of purpose was evident in her work," said Johnson. "She was a role model for student participation and for students caring about each other. She was student council president and a member of GMU's Dreamcatchers program, and she'll be attending Bridgewater State University in Massachusetts."
Business teacher Michele Rock presented the second Faculty Award to Meseret Metku. "She's originally from Ethiopia and, even though she was still learning English, she learned computers. She helped other students, never missed a class and always had a positive attitude. This young lady is compassionate, has a caring spirit and is always lifting up other students. She also photographed special school events."
"She faced language barriers and the loss of loved ones when she came to the United States," continued Rock. "Yet in a male-dominated IT field, she shattered ceilings. She was a Dreamcatchers member and received almost $7,000 worth of scholarships. She's a young woman of color beating the odds, graduating today, and inspiring and leading the way for others. Meseret, go forth in courage and know you're encouraging others to go forth and find their dreams."
'You Overcame Obstacles and Achieved Great Success'
Mountain View Principal Joe Thompson speaks from the heart.
Before addressing the Class of 2019 at graduation, Mountain View High Principal Joe Thompson noted that the Mountain View Foundation was responsible for more than $60,000 worth of scholarships, this school year. He also acknowledged the community of support – family, friends, faculty and staff – that makes the school such a special place.
He then congratulated the class and thanked its members for all the positive contributions they made to the Mountain View culture. "You have taught me so much about how to be a better leader, a more-focused educator and a stronger advocate for the students in my care," he said. "Most importantly, your accomplishment today inspires me. Through your resiliency and your dedication to meeting your goals of graduation, I've learned to greatly appreciate how hard a person has to work to truly find success."

THOMPSON said it's not easy to get a diploma from Fairfax County Public Schools. "There are no shortcuts and no giveaways – you have to earn it," he stressed. "You've earned this accomplishment, and it cannot be taken away. I know each of you are bound for success in whatever fields of work you choose, the relationships you keep, and the service you bring to your community. I know this because I've watched you succeed here at Mountain View."

"And once you have the formula for success, you can always find ways to apply it to other opportunities in your life," he continued. "Everybody wants to tell fresh graduates how they are poised to be so successful somewhere down the road in life. Well, you made it to graduation – you have already found great achievement. Success then is not some far-off destination that you have the potential to reach. You are immersed in great success right now, so get comfortable with this feeling and allow yourself to reflect on how, exactly, you reached this achievement."
Thompson told the grads to remember the times they felt discouraged, misunderstood or even alone in the educational process. But then, he said, "Remember your resiliency, your resolve to meet your goals, and your decisions to reach out to caring friends and adults to help you. Say to yourself, 'I did it. There were people who didn't think I could – and look at me now.' This is exactly what success feels like, and we want you to replicate it throughout your life."
He also reminded that that success doesn't just happen, all of a sudden. "Success happens when you stack together a bunch of little things you can control to make a huge pile of greatness," said Thompson. "So remember what little things you can control."
One of those things, he said, is how they overcome the fear of failure. "You've all used Mountain View as a tool to turn your failures into opportunity," said Thompson. "If you find yourself stressed out that you haven't met your goal, remember, you haven't met it – yet. And there's no shame in the path you take to reach your goal, even the stumbles. We've all encountered failures and setbacks.
"At Mountain View, we talk an awful lot about respect," continued Thompson. "The respect you've earned from your teachers and classmates is rooted in the fact that you made the brave choice to not let failures or setbacks define you. You can always control the respect you give others, and you can always rely on your resiliency and grit to earn others' respect."
ALSO UNDER THEIR CONTROL, he said, is asking for help. "There's no better feeling than achieving success with a group of people," said Thompson. What makes graduation special, he said, is having their classmates there with them to share in the joy.
He then urged them to "Find the ones you trust – the ones you have faith in – and then help each other. Those people you count on for help, you should consider family. Here at Mountain View, we talk about family, and we consider each of you part of our family. Succeeding alone can't be nearly as rewarding as celebrating with family.".
Thompson further encouraged the grads to "always remember all the amazing things that make up who you are. You can control always knowing that you are loved. When you entered Mountain View – no matter how, why or when you got to us – we believed you were too valuable to fail. You can control remembering you're valuable and you deserve success.

"When faced with difficult times and hard decisions, when you feel like giving in to self-doubt, when fear of failure starts to dominate your mindset, think about your time here at Mountain View. Allow yourself the freedom to appreciate that you built amazing, positive relationships, you overcame difficult obstacles and you achieved great success."

So, said Thompson, "Just as you entered our building hearing about the value of the concepts, Family, Love and Respect, it only makes sense that you'd leave hearing about them again and the value they hold when viewed as little things you can control. Little things that, when stacked together, ensure you'll continue to find success throughout your life. You deserve that success, and we'll be waiting here at Mountain View to hear all about it."