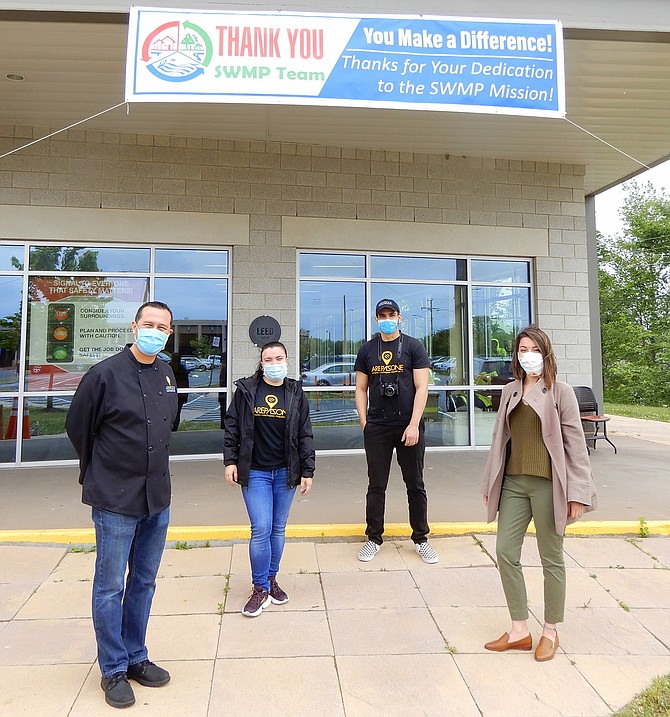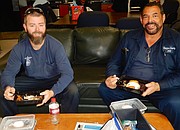 National Public Works Week was May 17-23; and as COVID-19 has revealed whose labor is essential – not just in a crisis, but every day – Fairfax County celebrated workers in a category that doesn't immediately spring to mind. It honored its public works employees who often fly under the radar yet perform services critical to the continuity of daily life – including trash pickup, recycling, vehicle maintenance, plus jobs involving wastewater, stormwater and water treatment.
To thank these valuable workers, the county's Economic Development Authority (EDA) secured $13,000 in funding from some local, philanthropic donors to create a special event for them. Last Wednesday, May 20, a fleet of local food vendors and food trucks served 1,400 meals (mainly lunches) from a variety of cuisines to public workers at 19 different sites throughout the county.
"It takes the skills and talents of everyone to keep an economy and a community safe and strong," said EDA President and CEO Victor Hoskins. "And this group of dedicated people works relentlessly behind the scenes to provide essential county services. These are jobs that keep us healthy and help provide the amazing quality of life we enjoy in Fairfax County. They can't be done at home and are physically and personally demanding."
And besides recognizing the people behind the public services residents often take for granted – but would sorely miss if they stopped – the event also helped provide income for the small-restaurant and food-truck owners who've also been hit hard with significant revenue losses during the pandemic.
"In this time of COVID-19, a lot of governments and economic development authorities want to put money back into the community," explained Kim Bryden, CEO and founder of Cureate, which helped organize the event and coordinate the vendors. "My company is the local, purchasing arm for governments and big businesses, and we connected the food vendors with the public-works facilities.
"This helps the local restaurants because the meals were purchased from them," she continued. "Furthermore, a lot of people recognize healthcare workers and first responders for their efforts, but not always public-works employees – who are also essential workers. So with this event called Operation Appreciation, we wanted to acknowledge everyone helping us thrive at this time."
LOCALLY, providing hot lunches for employees at the county's Vehicle Maintenance facility and I-66 Transfer Station, both on West Ox Road, was Arepa Zone of Fairfax. The Venezuelan-style meals were bowls featuring basmati rice, sweet plantains, black beans and a choice of either beef, chicken, pork or sautéed vegetables.
"These are jobs that keep us healthy and help provide the amazing quality of life we enjoy in Fairfax County."
—EDA President and CEO Victor Hoskins
At the Vehicle Maintenance facility – one of four in the county – Vehicle Services Director Mark Moffatt said Arepa Zone brought food for both shifts of his 85 total employees there. "It's nice that they're honoring our workers," he said. "We do the maintenance on all the county's firetrucks, Park Authority vehicles and equipment, school buses and support vehicles."
Two people enjoying the lunch there were bus mechanic Quentin White and dump-truck mechanic Scott Duvall. White called Arepa Zone's efforts "great," and Duvall said he liked his meal. "It was very thoughtful, and I appreciated it," he said.
Ali Arellano and Gabriela Febres own Arepa Zone, which does takeout and catering. Their Fairfax kitchen is at 3160 Spring St., Unit B, and they were delighted to provide lunches for last week's event at both West Ox Road sites.
"Once this thing settles down, though, it's important to continue these efforts supporting the local and minority- and independently owned businesses," said Febres at the I-66 Transfer Station. "We're making food with dignity – food that I'd eat, myself. Everybody deserves to eat healthy, good-tasting food, and providing it has been the most-rewarding part for us, as a restaurant."
"And coming here today was super fun because we got to see people's reactions as they ate our food," she continued. "Since these employees often grab their meals and get back in their trucks, we did four types of rice bowls that they could easily reheat in the microwave. We've also been making food for local hospitals."
Because of the virus, noted Bryden, "We can't have buffets anymore, so things have to be individually packaged. And small restaurants are more conscious about who they're buying their ingredients from to protect the supply chain."
MOVING FORWARD, said Febres, "This has made us rethink how catering will look. And we're being more sensitive to the environment in our packaging. But to pivot in response to the virus, we had to make investments upfront to our software and make a new Website so people could buy our meats by the pound online and we could deliver to their homes."
"The businesses able to be creative and adapt will be the ones who'll survive," added Bryden. "At Cureate, we believe that, every day, you have a chance to invest in the future and the dreams of a small business."
As for the workers at the I-66 Transfer Station, which deals with trash and recycling, they, too, liked their Arepa Zone meals. "The pork and rice were very good, all the way around," said lead refuse operator Page Richards. "There are some nice people out there doing something special for us. You see on the news about people appreciating the firefighters, police and healthcare workers, but not us trash workers – so this is very nice."
Agreeing, Shonpaul Truss, assistant superintendent of solid waste, said, "We appreciate it immensely, and we enjoyed the food. My beef meal was very flavorful, and it's nice to know we're appreciated."
Heavy-equipment operator Allen Crigger said his chicken-rice bowl tasted great and "the plantains were good, too. We enjoyed what they gave us. It felt good to be recognized and know they appreciate the work we do for them."
"Our frontline workers are our heroes, stepping up to keep our county going during these challenging times and handling critical operations," said Deputy County Executive Rachel Flynn. "I know our employees were honored that so many were thinking of their wellbeing."