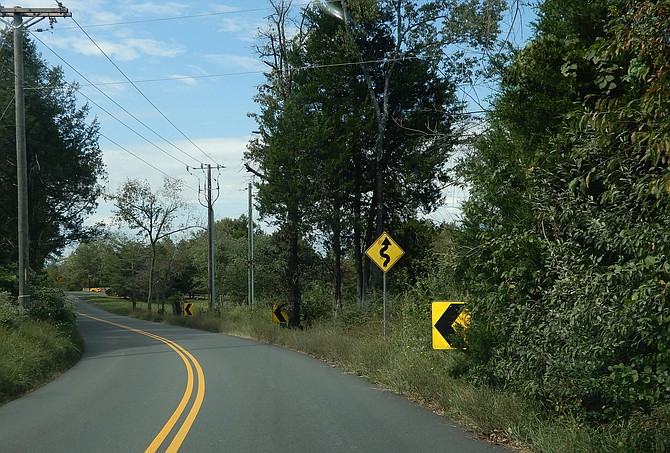 Bull Run Old Post Office Road is a winding, two-lane, country road, not intended to carry the heavy traffic an arterial road, such as Route 29, does. And for years, large commercial trucks were prohibited from driving on it between Route 29 in Fairfax County and Braddock Road in Loudoun County.
But when significant changes to Bull Run Post Office's original alignment resulted in a noncontinuous route connecting the original end points of the road, VDOT rescinded the ban on through trucks and removed the signs advertising the restriction. So in August 2019, Supervisor Kathy Smith (D-Sully), asked VDOT to restore it, but VDOT said Fairfax County would have to request it all over again.
A year has passed since then; but on Sept. 15, the county finally approved sending a resolution to VDOT, asking it to reinstate the ban. But it wasn't without controversy.
VDOT can't bar big-rig trucks from the road without providing an alternate route for them to travel. And this route is Sudley Road and Gum Spring Road between Route 29 and Braddock Road, in Fairfax, Loudoun and Prince William counties.
However, part of this route goes through the Manassas National Battlefield Park in Prince William County, and the National Park Service contended that forcing through-trucks to take it would increase traffic on Route 29 and Sudley Road within the park. So both the National Park Service and Prince William County wrote to VDOT and Fairfax County opposing the Bull Run Post Office truck ban and the proposed, alternate route.

Yet Fairfax County residents were just as adamant against having huge 18-wheelers traveling on Bull Run Old Post Office. Besides being a curvy, twisty road with no shoulders, it goes through grassland-restoration projects in the Elklick Preserve and Poplar Ford Park. And this land surrounding the road also provides a refuge and migratory rest stop for birds and animals.
FAIRFAX COUNTY'S Board of Supervisors held a Sept. 15 public hearing on the truck ban, and Centreville residents had their say. All were in favor of preserving Bull Run Post Office's integrity as a peaceful, rural-type road and preventing large, commercial trucks from traversing it.
Jeff Flading, of the Fairfax National Estates community, spoke on behalf of its 60 homes. "The Park Service has no standing in this," he said. "I urge a unanimous vote for the truck-ban restoration – and in a timely manner. It's taken us years to get back to this point after the signs were taken down."
Stonebridge Chase resident Dawn Battle said she's personally seen several accidents on Bull Run Post Office. "That road is narrow and very dangerous," she explained. "School buses stop on it twice daily. Parents living off Bull Run Post Office Road and soccer-playing children going to SYA's Fields of Dreams there have no other route to use to get to their destinations – truck drivers do."
Therefore, she said, "Reinstate the signs for safety reasons. It's only a matter of time until someone is seriously injured or dies on this road – and it's happened before."
Noting that he lives half a mile from Bull Run Post Office, Bill Reese said, "Seven-axle trucks, 12 feet high, weigh several thousand pounds and tear up the road. But my concern is safety. It's one of the most dangerous roads I've ever seen. In many areas, the trucks are so big they can't physically stay on their side of the road. There are much safer roads they could take. I hope you'll opt in favor of protecting the citizens from this dangerous situation."
Resident David Holland called it a "narrow, barely two-lane road with no shoulders. Cars are often driven off the road by the large trucks and, on many occasions, I've seen accidents there. It's also dangerous to school buses, and the big trucks often use Bull Run Post Office Road as an access to cut through the neighborhoods. I urge you to reinstate the truck ban."
COUNTY STAFF also recommended approval, and transportation planner Steven Knudsen, with the county's Department of Transportation, said they'd send a resolution to VDOT. "Then, if it meets their requirements, they'll send it to the Commonwealth Transportation Board for its approval," he said.
Although nearby residents were hoping the ban would go into effect before winter's snow and ice makes this road even more hazardous, Knudsen said that, "Since the alternate route goes through two other counties and a national park, it could take as long as nine months before signs go up."
Smith then made a motion for approval of the truck ban and the supervisors endorsed it unanimously.