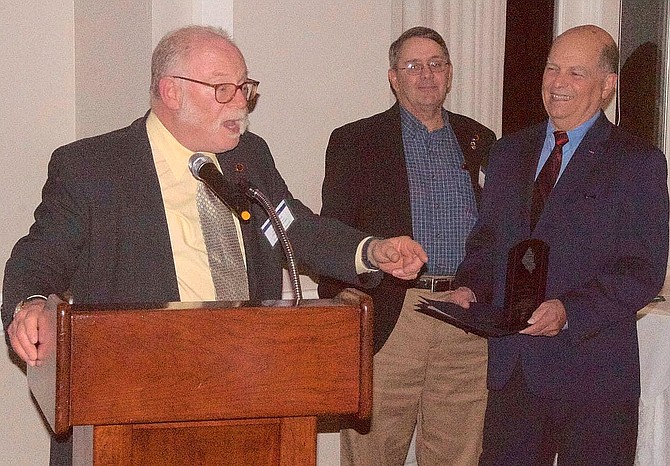 For years, Chantilly Highlands resident Jeff Parnes was involved in the Fairfax Federation's Citizen of the Year program. As its president, he emceed its annual awards banquet; as past president, he organized it. 
But on Nov. 14, he was one of 12 people honored by the Federation, celebrating the best of citizen activism in Fairfax County. These awards recognize people whose voluntary contributions of time and talent resulted in major accomplishments enhancing the quality of life for county residents.
Parnes has been a consummate volunteer since moving here more than 40 years ago. And at the Federation's 70th annual banquet, he received the organization's Citation of Merit for his work in transportation, plus his other volunteer activities.
Braddock District Transportation Advisory Commissioner Kevin Morse nominated him for the award; and accompanying Parnes to the ceremony were his wife Daria and son Adam.
"In 2020, I decided to retire from the Citizen of the Year process," said Parnes. "So it was a pleasant surprise to find that, this year, someone had nominated me for the honors that, for almost 13 years, I'd been helping hand out."
"When I listened to the descriptions of the work done by the other honorees, I realized that our county benefits immensely, in many ways, from the often-unnoticed and little-acknowledged efforts of our residents," he continued. "Many members of our community want to give back, and they pick a need that they see unmet and do what they can to fill that hole – which we may not realize exists. Working together, we make our community a better place." 
Parnes said the Federation's Citizen of the Year process enables these usually unheralded volunteers to be recognized by those they serve, and by the community, as a whole. "I'm glad I was able to help raise awareness of these volunteers when I was involved in this process," he said. "And I'm humbled to be on the receiving end, this year."
His citation reads as follows:
"Jeff Parnes has worked tirelessly as an advocate for the transportation needs of the residents of Fairfax County, Northern Virginia and our entire region. He served on the Fairfax County Transportation Advisory Commission (TAC) for 17 years and was Chairman from 2010-2020.
"Since 2010, Jeff has advanced integrated, regional, transportation improvements as a member of the National Capital Region Transportation Planning Board Citizens Advisory Committee. [Also] since 2010, he's served as Transportation Chair for the Fairfax Federation, which he served as president from 2007-2010 and in many other roles over 18 years. 
"Jeff served the Sully District Council of Citizens Assns. for four decades and the Dulles Area Transportation Assn. for two decades. His interest, passion and advocacy span from individual, local, transportation improvements to visionary, long-range, multi-jurisdictional, multimodal connections. If a group wants to plan better transportation, Jeff will show up.
"For his commitment to constructive, civic engagement and his past and present outstanding efforts to improve transportation in all its forms, for all of us, the Fairfax Federation is honored to recognize Jeff Parnes with the 2020 Citation of Merit."
A write-up on the Federation's Website explained that Parnes made "real and practical efforts to serve his community. As TAC chairman, he'd engage VDOT and county transportation staff from real-world experience. He literally 'walked the walk' in questioning staff about bus routes, paths and trails because he'd stood at bus stops trying to read signage that wasn't helpful in getting him to his destination. He could relate firsthand where it was safe and unsafe to bike to work because he'd done it." 
But that's not all he did. Parnes also served on a slew of other organizations, including the Greenbriar Community Assn. Land Use Committee; Fairfax Center Area Study Task Force; Route 50 Corridor Planning Task Force; Sully District Council of Citizens Assns., 1992-present; Greater Washington 2050 Task Force, 2007-2010; Metropolitan Washington Council of Governments, Transportation Planning Board, 2010-present; and WMATA's Bus Transformation Project and Blue/Orange/Silver Corridor Study.
"From an early age, I was a volunteer," said Parnes. "As a teen, I was an Eagle Scout. And in college, I joined Alpha Phi Omega, the national service fraternity, which sponsored projects serving our college and local communities. Eventually, I received a Distinguished Service Key in recognition of my efforts. After college, I was Scout master to my former troop."
Moving to Chantilly's Greenbriar community in 1980, he became involved in land use and transportation. "Our house was at the end of a private drive along Greenbriar's eastern boundary, and I wondered what would be built there when the land redeveloped," he explained. "To have some input into the answer, I joined the community's land-use committee, eventually becoming its chair." 
"I found that Fairfax County listened to its residents, and I was welcomed to the table with other stakeholders – some of whom, unknown to me at the time, were the movers and shakers of the county's development community," said Parnes. "With Daria's support – without which I could never have spent so much time away from home – I became involved in the county's various efforts to control and influence its future growth. 
"Looking back over 40 years when the county population nearly doubled, from about 600,000 to almost 1,145,000 people, residents provided a counterbalance to the unbridled growth that would have happened, had the developers had their way." 
Parnes learned to give back from his mother, Marion. He recalled her getting the names and badge numbers of bus drivers who went beyond the call of duty so she could praise them to their supervisors.
Remembering her lessons, he later became chair or president of the many organizations he joined, including his homeowners' association, the Sully District Council of Citizens Assns., the Fairfax Federation, his local professional organizations, TAC and others. Said Parnes: "I worked for a living, but I lived through my volunteer efforts."