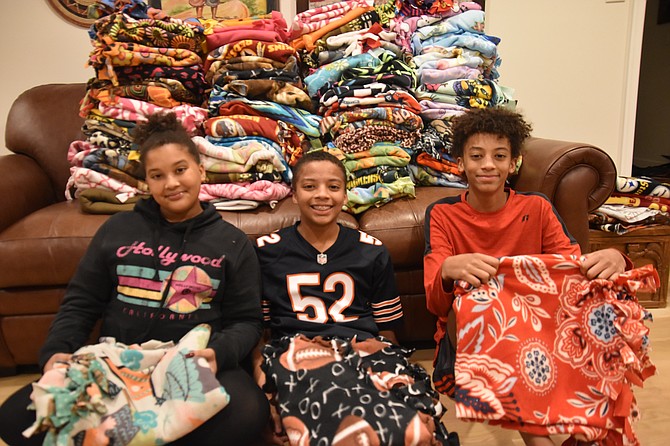 Residents in Oakton's Miller Heights neighborhood who made the fleecy no-sew blankets for Project Linus never saw the child press the soft nap of the blanket against her cheeks. 
Supervisor Dahlia Palchik (D-Providence) and her team never saw the teen wrapped in the blanket and cocooned in its warmth. And the returned Peace Corp volunteers never saw the young Afghan refugee finger the silky, loosely woven fabric of her new blanket.
But perhaps they and other Project Linus volunteers across Fairfax County, like Carine Newberry of Oakton, who knotted away making 85 blankets and counting, knew she was doing something to help children. Those who, as she said, for whatever reason, needed warmth and hugs more than she did. 
"I thought about them with every knot, and I like to think that my blankets are a little bit warmer and fuzzier because of that," Newberry said.
Nearly a year ago, volunteer Sara Holtz of Oakton unexpectedly became the recipient of a substantial donation of fleece. "Like hundreds of pieces, thousands of pieces," she said. With a plan in mind, Holtz cut the fleece to the proper size for no-sew fleece blankets. She reached out to Annabelle Hammer, Reston Chapter Coordinator, Project Linus Fairfax County Chapter, Northern Virginia. 
"Can we make blankets for you?" Holtz recalled asking.
According to Hammer, Project Linus https://www.projectlinus.org/ is a national charitable organization that distributes new, handmade blankets, quilts, and afghans created by volunteers in the local community, or "blanketeers," through service opportunities. "As the head of one foster/adoption program told me, a child was amazed that a total stranger would take the time to handmake a beautiful blanket," Hammer said.
Project Linus requires that all blankets be handmade of new material, washable, pin-free, come from smoke-free environments, and free of chemicals, pet and animal hair. 
At some point, a silky Project Linus tag is sewn to each blanket. Generally, finished items are delivered in bulk to designated "blanket transfer" locations. Finally, they are distributed to local needy or traumatized children ranging from newborn to eighteen years of age. Common sites include hospitals, clinics, foster-adoption agencies, crime victim units, and shelters.
According to Holtz, early in 2021, with the pandemic raging, she started contacting her Miller Heights neighbors in Oakton through Facebook and local Girl Scout troops, saying she had tons of fleece and asked who could help make blankets. "Next thing you know, I'm putting bins at the front door, and people are coming and saying, 'I'll make ten, I'll make fifteen,' and they take them home," she said. Then, when they were done, they would bring the fleece blankets back to Holtz, and she would bag them up and give them to Project Linus.
As this was happening, more fleeces kept coming to Holtz's home, and she began sending them out in larger quantities to volunteers, including to teen Girl Scouts from Oakton, Reston, Herndon, Fairfax, and Great Falls. "People would say, 'I'll make 50, or my Girl Scout Troop will make 80. We had returned Peace Corp volunteers.' It just kept on going like that all year long, " Holtz said.
Local groups that received blankets include Food Justice DMV, Healthworks for Northern Virginia, Inova Fairfax Hospital, The Nest Collective, Forestdale and Herndon elementary schools, The Salvation Army, Sleep in Heavenly Peace, Catholic Charities, Diocese of Arlington Migration and Refugee Services for Afghan refugees, Bailey's Crossroads Community Mutual Aid, Gracing Spaces, and Fairfax Circle Church.
No scrap of cloth goes to waste either. The smaller pieces left after Holtz cut the blankets; the Girl Scout troops used to make blankets for the animal shelter. 
"There are a lot of good things going on in the world and around here, despite all the COVID, political disagreements, climate change, and all of that. We have some good things, at least bright, bright lights here and there, that we can focus on," Holtz said.
To learn more about Project Linus, visit 
Project Linus-About
 and 
FairfaxCounty.VA@projectlinus.net
.