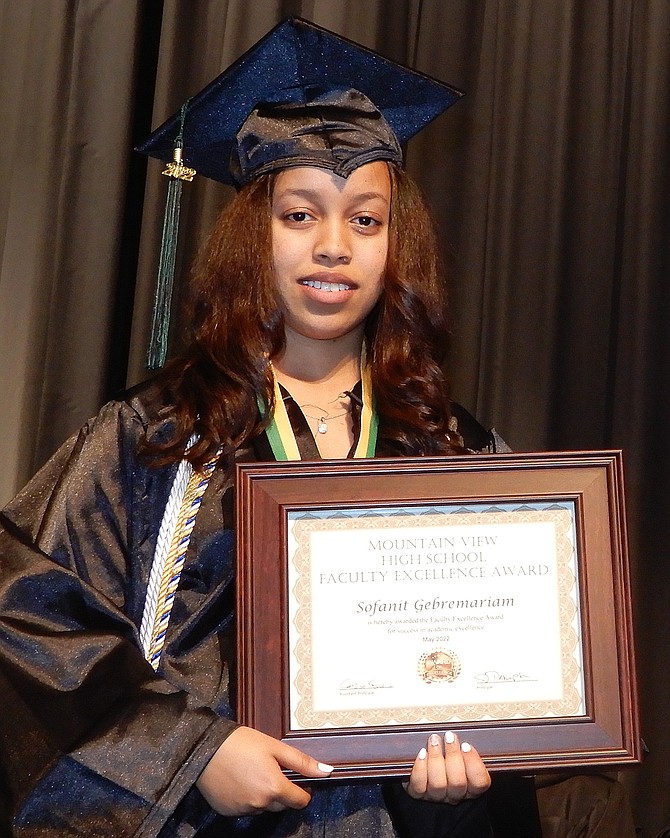 A Mountain View High graduation is always a mixture of joy, tears and pride – joy because of the students heading toward their futures, tears because of the heartfelt speeches describing all they've overcome, and pride because they've succeeded. And the ceremony last Tuesday, May 31, at Centreville High was no exception.
Mountain View holds both fall and spring commencements, and this one was the 52nd since the school opened, 26 years ago. Assistant Principal Catherine Stone said all the grads share the common bond of being part of the Mountain View family and embodying the school's motto of Family, Love and Respect. She also thanked their parents for "sharing your students with us and being part of their support system."
Principal Joe Thompson noted that the school's nonprofit Mountain View Foundation was responsible for this semester's grads receiving more than $37,000 worth of scholarships. Acknowledging each graduate's "amazing contributions" to Mountain View, he said, "We believe you can succeed."
He also urged the grads to remember that "The unconditional support we've provided here for your growth and development never goes away. You'll always be part of the Mountain View family." (See sidebar for the rest of his speech.)
Since the majority of the students come here from other countries – often fleeing great adversity and not speaking any English – they must overcome tremendous obstacles the average FCPS student doesn't have. So their dedication and drive to obtain an education and graduate sets them apart. It's also illustrated in the stories related by each student speaker at graduation.
The first one, last week, was Tariq Aldalou. He's Palestinian but was raised in Syria. "Violence in the Middle East forced my family to seek a better life," he said. "I loved Palestine and my family and the olive trees there. But war forces us to make decisions that affect our future."
Eventually moving to America, he said, "People in the U.S. have different food, clothes and lifestyles. As an immigrant, I've learned you must be proud of what makes you unique and remember your values. I thank my father, who's helped me and always had my back, and my sister, who made me a better person. And I also thank everyone at Mountain View who helped make my dream of graduation come true."
Nuruddin Nabil immigrated from Bangladesh to the U.S. four years ago. "There were challenges – English isn't my first language," he said. "But coming to Mountain View is the best decision I made in my life. They made learning fun for me, and they have wonderful counselors and teachers." Case in point, directly addressing his math teacher, Dylan Thomas, he said, "Mr. Thomas, I like you, but I don't like math."
Continuing, Nabil said, "The teachers here are so friendly and treat us like their own children. When I come to Mountain View, it's like coming to my second home. I'll always be grateful to Mountain View for helping me get my education. It isn't just a place of study; here, you realize you are not alone. Mountain View lets students catch their dreams."
Nabil also thanked his parents, sister and brother-in-law for supporting him unconditionally. Next, he plans to study information technology at NOVA and then attend Virginia Tech or GMU and eventually work in cybersecurity.
"I'm here because of the sacrifices my parents made," said Sofanit Gebremariam. "Four years ago, I couldn't have dreamed of graduating." She was born and raised in Ethiopia, but she and her sister and older brother were able to move to the U.S. And although her mother is still in Ethiopia, when Gebremariam was 13, she helped her father come here, too.
"My parents are precious to me – a source of inspiration and encouragement," she said. "My mother was my first teacher; she was my guide and my friend, and she taught me to be wise. And my sister sacrificed herself many times to make me happy."
When Gebremariam came to the U.S., she, too, had to learn a new language. And she did that, and more, at Mountain View. "This school helped me to learn and grow, be responsible and proud," she said. "If you fail, the teachers tell you to try again 'til you succeed. They motivate you to work hard."
Tearing up, she then thanked the school, her parents and her siblings for "being there for me – and my aunt, for being a second parent. And thank you to my teachers for encouraging me to learn and helping me to see my own value. I also thank God; I feel blessed for all the good things that have happened to me."
Stepping to the podium afterward, Stone thanked the speakers for "sharing your stories with us. You are the reason we come to school every day."
Special awards were then presented to three deserving students chosen by the teachers. The winners were as follows:
* The Citizenship Award is given to a student who's helped build a positive school community. Thomas presented it to Nikolas Migliore. 
* The Personal Achievement Award goes to a student who succeeded academically and personally, despite having adult responsibilities, such as a job or a child. This award, presented by math teacher Jennifer Lee, went to Kimberly Perez.
* The Faculty Award is given to the student achieving the greatest academic and personal success, despite significant obstacles. ESOL teacher Lora Bates presented it to Gebremariam. 
"Imagine traveling 7,200 miles on a 23-hour flight to come to the U.S.," said Bates. "But that's what Sofanit did. Without parents in the country, she was living on her own with her siblings. She works 40 hours a week and had almost perfect attendance at school. She's the Mountain View epitome of perseverance and resilience.
"She won department awards in math, science and English and won two scholarships. She wants to go to college and become a math teacher, and we're incredibly happy to see Sofanit making her dreams come true."