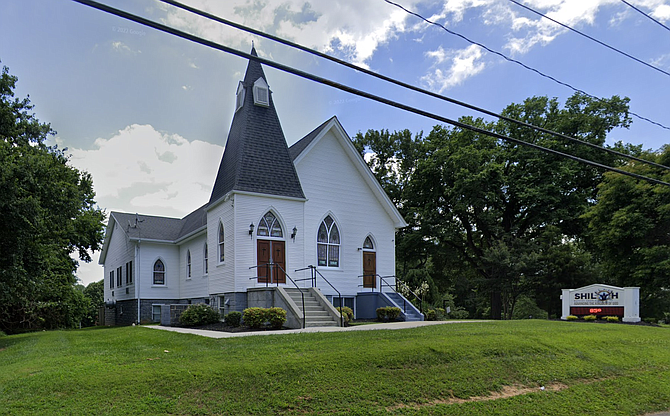 One hundred-fifty years ago, in 1872, Shiloh Baptist Church was organized with seven members under the leadership of the Reverend Cyrus Carter. The congregation worshipped in the one-room Odricks Schoolhouse, located at the intersection of Spring Hill and Lewinsville Roads in what is now McLean. 
On Sept. 18, 2022, members of one of the oldest African-American churches in Fairfax County, its senior leaders, clergy, officials, presenters, and supporters gathered at the 150th Church and 15th Pastoral Anniversary Worship Celebration to recognize the occasions serving by the greatness of Grace.
"I'm proud to stand on the shoulders of some strong and powerful predecessors who have led us through some years, sometimes (with) some toils and some snares... I pray for a day and time we don't have to call it social justice. We can just call it justice," said Senior Pastor, the Rev. Dr. Robert F. Cheeks,Jr., with his wife, Assistant Pastor Constance Cheeks, seated nearby. "God has shown us time and time and time and time again how amazing Grace is. … (And) here is our moment in time; we do this together. That is what this really is about." 
Michelle Spady, chair of the Anniversary Planning Team, said they stood upon a foundation built through faithfulness to God. Spady said that she struggled with what to say that morning. She told of her inspiration, noticing a letter on her computer from the Rev. Canon Leonard L. Hamlin Sr., Canon Missioner and Minister of Equity and Inclusion at Washington National Cathedral. He had requested that Spady incorporate it into the celebration.
According to Hamlin's letter, which Spady read, the 150th anniversary of Shiloh Baptist Church was an opportunity to reflect on the past, examine the present, and grasp the future. Hamlin had written that there were insufficient words to express his feelings as he reflected on this momentous occasion. Nevertheless, he wrote, "We are praying and looking forward to worshiping, witnessing, discipling, and transforming lives in the power of God."
Deaconess Brenda Johnson read a letter signed by Gov. Glenn Youngkin. 
"Your leadership, knowledge, and experience will continue to guide, comfort, and inspire your congregation. The First Lady and I pray that on the sesquicentennial anniversary, the Lord will continue to embrace your congregation and lift you up as you guide them in the coming years," the letter from Youngkin said.
Jeffrey C. McKay, chair of the Fairfax County Board of Supervisors, said that it was a testament to the individuals involved in the work they do to do good for "not some, but all," people.
"So, I come here today not only to celebrate 150 years of this assembly and our history but also to celebrate our past, to reckon with our past, and to make sure that we, as the people, government, religious, all people, work together to do better in the future, in our pursuit of justice and equity and fairness for all people," McKay said.
"And Lord knows, right now, we need all the help and all the strength possible to carry on that mission and to continue to do what I always say is the most important thing for all of us, which is to advance always, always as a community," McKay added.
McKay then presented a resolution on behalf of Fairfax County's nearly 1.2 million residents and the Board of Supervisors to commemorate the momentous occasion. It described the church's history and how, for 150 years, Shiloh Baptist Church has provided spiritual leadership and dedicated service to the McLean community and the greater region. 
Adrian Steele, a member of the Lewinsville Presbyterian Church nearby also read a resolution. Steele said that Bible studies had taken place between the two churches, but the pandemic interrupted them. Now they were considering how to serve the community and each other better and more effectively. He read, "We give thanks to God for the many ways that you preach the gospel, serve the community, provide spiritual and material support, and bear witness to the Kingdom of God in our community."
Before transitioning from the celebratory presentations, Cheeks said that some had asked why he would insert a Baby Dedication on this day. "Why not? … We gather to be who we are. We gather to celebrate what we have done for 150 years," he said. 
"We've served. We've led. We've ministered. We've blessed babies. We've united individuals in the holy matrimony. We've baptized. We've served communion. And what a fitting moment to have in the midst of looking back, reflecting back, and being thankful about what's ahead. Because all that becomes the catalyst that propels us forward. But (what's) more appropriate for us, as the church, to be the church in a moment like this… (than) to dedicate his children?" 
The parents and families of babies Courtland Creed Baker and Genesis Reneigh Fennell brought them forward for the Rev. Dr. Cheeks Jr. to bless and dedicate. 
"What an amazing story for their lives," he said.