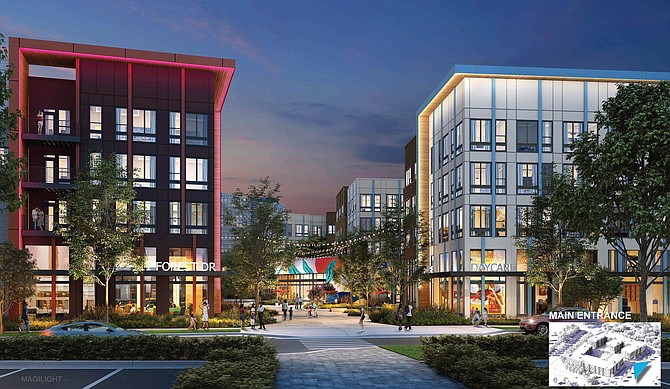 If all goes well, people in need of affordable housing will eventually be able to find it on the grounds of the Fairfax County Government Center in Fair Oaks. That's because, on Jan. 19, commissioners on the Fairfax County Redevelopment and Housing Authority (FCRHA), approved up to $14 million to make such homes a reality.
By taking that action, the FCRHA gave the green light to financing for Phase One of this project. Called Residences at Government Center II, it will ultimately bring 279 units of affordable housing to the Braddock District on property the county already owns.
Planned are two, five-story buildings serving residents earning from 30 to 70 percent of the Area Median Income (AMI). The development will also contain an approximately 15,000-square-foot community space that will be used to provide a daycare facility, as well as other resident and community-based services.
"Providing housing that's affordable to working families is key to our continued success as a county and a region," said Supervisor James Walkinshaw (D-Braddock). "This proposal also presents an opportunity to improve water quality and provide enhanced pedestrian access for the surrounding community."
By giving a go-ahead to the funding, the FCRHA is taking a page from the playbook of a similar county project that opened in 2017 along nearby Monument Drive. That one yielded 270 workforce housing units with lower-than-average rents enabling people such as teachers, public-safety personnel and service-industry employees to live in the county in which they work.
And although the specifics of the new project's partnerships and funding arrangements are different than in the previous affordable-housing development, the basic principle is the same. It unites various entities, both public and private, in a common goal – to provide housing for people who otherwise couldn't afford to live in Fairfax County.
"The utilization of public-private partnerships has once again enabled the FCRHA and Fairfax County to get closer to meeting our goal of 10,000 new affordable homes by the year 2034," said FCRHA Chairman Melissa McKenna. "Through creative approaches, we have re-envisioned county land to that which includes affordable housing, access to transportation and employment, community resources, and green space."
Subject to the Board of Supervisors' OK, the financing plan will employ a mixture of funding sources, including the Affordable Housing Development and Investment Fund, the Tysons Housing Trust Fund, and American Rescue Plan Act funds. And certain steps have already been taken to pave the way for construction of the new units. 
This past summer, the FCRHA entered into an interim agreement with subsidiaries of Lincoln Avenue Capital for the development of the first phase of the Residences at Government Center II. In addition, the Supervisors have already conveyed ownership of the existing Parking Lots G and H at the Government Center to the FCRHA on which to build the affordable housing. 
"For more than two years, the Board has been working to develop a proposal to bring affordable housing and childcare to what is now an underutilized parking lot in front of the Government Center," said Walkinshaw. "The Board's recent approval of a Comprehensive Plan amendment is an important step that will allow continued community engagement and dialogue before the consideration of a necessary rezoning."