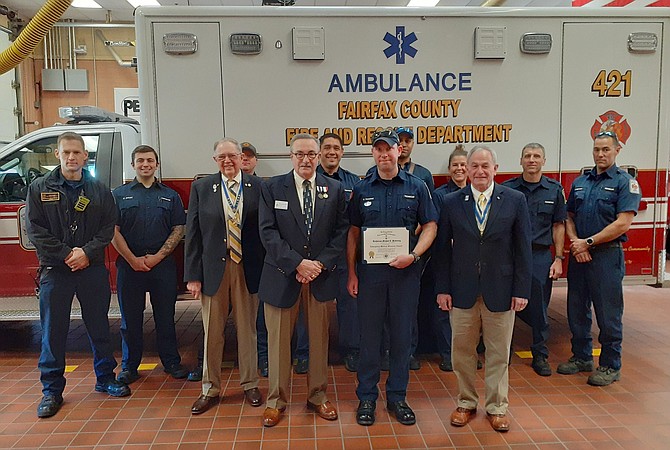 A local firefighter was recently honored with a Public Service Medal for his heroic actions in the line of duty. On Dec. 13, Technician Michael C. Pickering, of Fair Oaks Fire Station 21, received the Sons of the American Revolution (SAR) Emergency Medical Services Commendation Medal. It was presented at his station by the SAR's Fairfax Resolves Chapter.
A 12-year veteran of Fairfax County's Fire and Rescue Department, Pickering holds the rank of Technical Rescue Operations Team Technician. He's a nationally registered paramedic and an active member of Virginia Task Force 1, a domestic and international disaster-response resource containing some 200 specially trained career and volunteer fire and rescue personnel. 
Each one has expertise in rescuing victims from collapsed structures after a natural or man-made, catastrophic event. As a task force member, he fills the role of Medical Specialist, as well as overseeing Medical Logistics for the team.
The SAR recognized Pickering for his commitment to Emergency Medical Services excellence. According to his commendation, "He always looks for ways to perfect his craft and consistently provides EMS training and mentoring for the shift and battalion, always furthering the emergency medical knowledge and skillsets of personnel. Technician Pickering has shown, time and again, that he can remain calm and in control under extreme stress on the EMS incident scene."
He recently performed an emergency cricothyrotomy (tracheotomy) on an unconscious, pulseless patient who had been choking. This procedure is a last- resort, surgical intervention that establishes an airway in a patient's throat.
It's rare to conduct it in the field and even rarer for a patient with a medical condition. However, thanks to his efforts and those of his team, the patient arrived at the hospital with a pulse.
***  
The Sons of the American Revolution is the largest, male-lineage organization in the United States, comprised of descendants of patriots who participated in the American Revolution. It's a nonprofit, nonpartisan organization dedicated to promoting patriotism, preserving American history and promoting education to future generations. 
The Fairfax Resolves Chapter conducts various patriotic, youth, public service and historic programs throughout the area. Men who believe they may be eligible to join the SAR and are interested in membership may contact the Fairfax Resolves registrar at 
registrar@fairfaxresolvessar.org
.