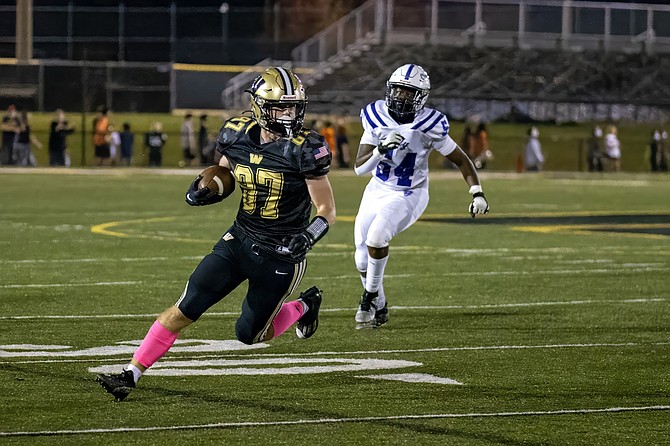 The Chantilly Chargers visited the Westfield Bulldogs on Oct. 23 in Chantilly. Westfield opened scoring with a Matthew Jenks 20 yard touchdown run with 6:10 to play in the opening quarter. 
In the 2nd quarter Carson Howell would recover a fumble for a touchdown and Westfield was now ahead 14-0. 
Chantilly would then score on an 83 yard touchdown reception to Garrett Carper with 7:40 to play in the 2nd quarter. After a failed point after the score was 14-6. 
Westfield would again capitalize with 6:10 to play in the quarter when Kennedy Duda rushed in for the first of his four touchdowns. Westfield, now up 21-6, would then score on Duda's 4 yard touchdown run with 4:06 to play in the 2nd quarter. Westfield was now up 28-6. Landon Murphy would bring in a 37 yard touchdown reception with 1:46 to play in the 2nd quarter and Westfield was up 35-6. 
Chantilly kicker Connor Wienke would kick a 25 yard field goal as time expired in the first half with Westfield up 35-9. 
Kennedy Duda would score his third touchdown of the game with 9:12 to play in the 3rd quarter, Westfield now up 42-9. Duda would score his fourth rushing touchdown with 3:52 to play in the 3rd quarter.
In the 4th quarter Cal Oakley would pick up a fumble of the Chantilly offense and run into the end zone with 16 seconds to play., for the Bulldogs 56-12 victory. 
Chantilly falls to (4-5)(1-3), Westfield improves to (7-2)(3-1). Chantilly will face Oakton, Westfield will play at South Lakes.