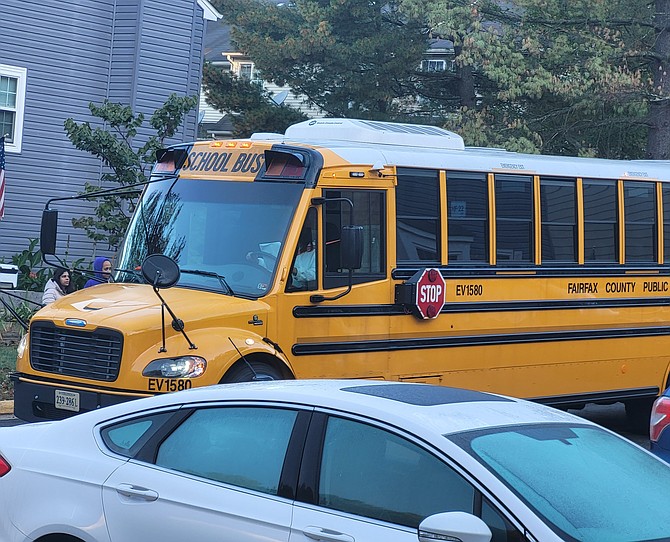 Fairfax County is taking more steps into the electric vehicle world with a fleet of electric school buses to join the mix, taking another step away from the internal combustion engine.
Fairfax County Public Schools started with eight electric buses in 2019, which are already operational, and help transport more than 141,000 eligible bus riders to and from school each day, FCPS said. By 2035, FCPS hopes to have an all-electric fleet.
On the "Battle of the Buses," promotional video on the Fairfax County website, the quiet electric buses are called "the strong silent type."
According to the county, FCPS was chosen to receive the buses in a competitive process after applying for a grant from Dominion Energy in fall 2019. Dominion Energy covers the difference in cost so that school districts pay no more for electric buses than they would for diesel models. The required charging infrastructure has been installed and is maintained by Dominion at the Stonecroft Transportation Center located in Chantilly.
FCPS applied for and received another grant from the Department of Environmental Quality for an additional 10 electric buses and received them in the summer 2022. Last summer, the county also launched a fleet of electric trash trucks as part of the all-electric effort.
In the big picture, the transportation sector accounts for nearly one-third of all greenhouse gas emissions. The Environmental Protection Agency said that to address the growing climate crisis and to meet the goal of net-zero GHG emissions economy-wide, "we must eliminate nearly all greenhouse gas emissions from the sector by 2050 and implement a holistic strategy to achieve a future mobility system that is clean, safe, secure, accessible, affordable, and equitable, and provides sustainable transportation options for people and goods."
EPA's Clean School Bus Program provides $5 billion over five years to replace existing school buses with zero-emission and low-emission models.