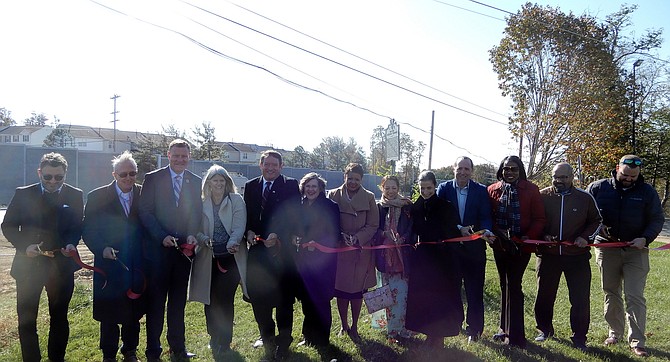 In September 2021, local dignitaries hoisted shovelfuls of dirt into the air to break ground for the Route 28 widening in Centreville. Held in the park-and-ride lot of Centreville United Methodist Church near this heavily traveled highway, the event marked the start of construction.
Some two years later, on Nov. 1, they gathered on the same spot – but this time, it was to cut the ribbon symbolizing the near completion of this project. And although a brisk wind plunged that morning's temperature to 36 degrees, and a few items remained to be finished, officials wanted to do it then because grateful drivers are already using the improved road.
"I want to thank all the men and women who physically worked out here – the contractors, the folks who made this important project happen – and did it safely," said Fairfax County Board of Supervisors Chairman Jeff McKay. "Whenever we make road-improvement projects like this in Fairfax County, we also focus on – not just moving traffic and people – but also the multimodal improvements for pedestrians and safety improvements for people who live along this corridor."
Because so many people regularly travel on Route 28 between Centreville and Manassas – and there were just two lanes in each direction – driving on it was always an exercise in patience. And during rush hour, traffic ground to a bumper-to-bumper crawl.
But area motorists may now rejoice because the road has been widened from four to six lanes between the bridge over Bull Run (south of Compton Road), at the Prince William County line, and the Route 29 Interchange in Centreville. Besides improving some 2.3 miles of Route 28, the nearly $79 million project also added more lanes on the side streets to ease traffic flow. 
To make the intersections function better, five existing traffic signals were upgraded, as well as bicycle and pedestrian crossings. The project created new 10-foot-wide, shared-use paths on both sides of Route 28 and stormwater-management facilities.
Other improvements included turn lanes, plus extra lanes on some side streets:
* Dual left-turn lanes on northbound Route 28 at New Braddock Road; 
* Dual left-turn lanes on northbound Route 28 at Machen Road;
* Triple left turns from westbound New Braddock to southbound Route 28; and
* The addition of one lane on both westbound and eastbound Compton Road, eastbound Old Mill Road and westbound Old Centreville Road (at the north end of the project).
Noise-barrier walls are being erected at four points along the project corridor. Along Route 28 north, one will be north of Darkwood Drive and one will be north of Compton Road. Along Route 28 south, one will be north of Green Trails Drive and one will be north of Ordway Road.
To get all the work done as quickly as possible, a design-build process was employed. That way, the design, right-of-way, utility and construction phases were able to be carried out concurrently. And while this project only had enough funding to widen Route 28 to six lanes now, both its design and land acquisition were done to accommodate eight lanes in the future. 
This Fairfax County Department of Transportation (FCDOT) project was accomplished in cooperation with VDOT and the Northern Virginia Transportation Authority (NVTA). Shirley Contracting Co. was the design/build contractor. 
Financing came from a variety of sources. The NVTA invested $26 million, and another $23.4 million came from VDOT via Virginia Smart Scale funds. Local government funds accounted for $10.4 million; VDOT Revenue Sharing funds, $10 million; and federal Demonstration funds, more than $9.6 million.
Listing the road's many, new features, McKay noted that this project also improved intersection safety; removed selected, unsignalized, median crossovers and breaks; improved pedestrian and bicycle connections at crossings; and included a new shared-use path on each side of Route 28.
He also expressed his appreciation for all the county's partners on it, as well as the General Assembly members who support the NVTA. "On behalf of the Board of Supervisors, we're happy this project is finished to improve the lives of our residents," said McKay. 
"We know that every moment spent in crushing gridlock is one moment spent not at your kid's soccer game or school, at home having dinner with your family, or a minute making you late to work or for a doctor's appointment – all the things that are part of our quality of life here," he continued. "Clearly, this project is already [making life better for people] and will continue to do that for a long, long time."
Supervisor Kathy Smith (D-Sully) welcomed attendees "to this momentous occasion," saying the new lanes will ensure "a more seamless and efficient transportation experience for our residents." She also called the community's anticipation of more lanes on Route 28 "palpable."
"The residents were eagerly looking forward to all the improvements in transportation and accessibility this project promised to bring," she said. "With improved transportation options and notable noise-reduction efforts, we're dedicated to ensuring a more tranquil and convenient living environment for all."
Next, Supervisor Pat Herrity (R-Springfield) also thanked all the construction partners and praised the design-build process, plus the "innovative design" enabling Route 28 to someday expand to eight lanes, if necessary.
 "While this project's not in the Springfield District – which is actually right across the street – much of the benefits from it will be felt within that district, as we start alleviating all the cut-through traffic in the Occoquan Watershed and through the Town of Clifton," he said. "Those are the people who really should be using this route, but it's been too congested. This project's the first step in remedying that."
Speaking, as well, was Terry Yates, VDOT's Northern Virginia District local assistance manager. "Not only was this one of the first Smart Scale projects in the state, it was also one of the first design-build projects," he said. "So when your locality, department of transportation, and all of your citizens and partners can come together and deliver a design-build project as complicated as this, that's saying something. We appreciate all the work and partnerships we have, and NVTA, which helps provide us funding to deliver these types of projects."
NVTA CEO Monica Backmon gave the closing remarks. "Two short years ago, we were here breaking ground on this project; and two years later, we're here to celebrate the cutting of the ribbon," she said. "This is a huge, huge project and one of regional significance. It also means an awful lot to the Authority, and five NVTA members are here today to attest to that. 
"This project will reduce congestion and improve regional connectivity plus multimodal access for various transportation options. That's what we do at NVTA and I'm proud to be here. Thank you very much – and great job!"