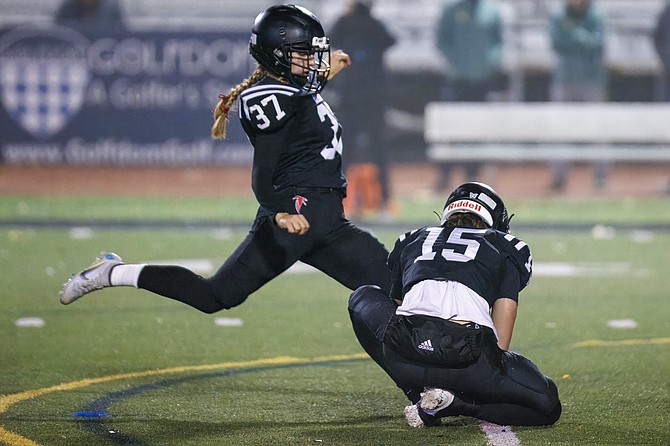 The Madison Warhawks hosted the visiting Langley Saxons on Nov. 10 in Vienna for a first round football playoff game.  
Opening the quarter Dominic Knicely scored the first of his three touchdowns with 8:42 to play in the first quarter. Just 42 seconds later Dominic Knicely scored his second touchdown on a 48 yard punt return touchdown. Later, in the 3rd quarter Cord Yates scored on a 50 yard touchdown reception from his brother, QB Cael Yates. Madison now up 21-0 with 3:58 to play in the opening quarter.
In the 2nd quarter Cole Hamburg scored on a short 3 yard  touchdown run to put the Saxons on the board, however the point after was blocked by Madison's Charlie Backman and the score remained 21-6. With 4 seconds remaining until halftime, Darren Knicely scored the first of his two touchdowns  on a 5-yard reception from Cael Yates. Madison would enter halftime upon 28-6. 
In the 3rd quarter Dominic Knicely ran in from 15 yards for his 3rd touchdown, putting Madison firmly in control 35-6 with 4:25 to play until the final quarter. With 18 seconds to play in the 3rd quarter Darren Knicely scored his second touchdown of the game with a 25 yard touchdown reception from Cale Yates. 
Madison and Langley would not score in the 4th quarter and Madison (10-1) would advance to the second round of the playoffs with a 42-6 win. Langley would end their season at (5-6). Madison will host Herndon (8-3) who were 28-21 winners over McLean. In the other Region D 2nd Round playoff game, Westfield will host Yorktown after defeating Washington-Liberty 30-7. Yorktown defeated previously unbeaten South Lakes 7-6.