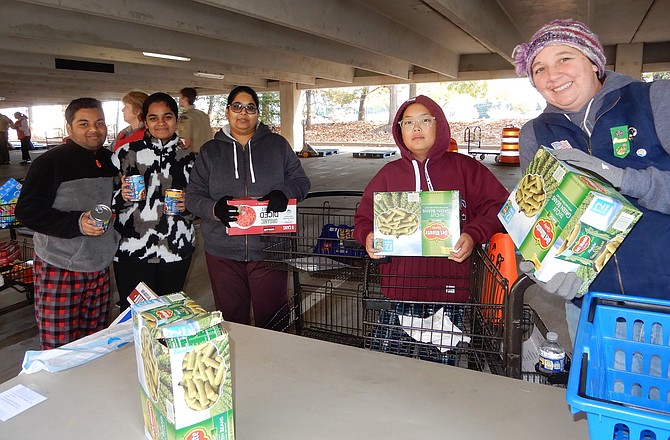 On Saturday, Nov. 4, Boy Scouts in the Sully District collected 50,416 pounds of food for Western Fairfax Christian Ministries' food pantry in Chantilly. The annual Scouting for Food drive was "wonderful and abundant as always, due to the great work of the Scouts in coordinating this drive," said WFCM Executive Director Harmonie Taddeo.
"We're so thankful to the Sully District Boy Scouts and their lead coordinator Michael Adere, the Sully community members who donated food and other necessities, and the many volunteers who helped deliver, stock and sort the food and toiletry items." 
Taddeo said the community's contributions will ensure that families needing to use WFCM's client-choice food pantries in both Centreville and Chantilly will be able to select from a variety of canned goods, baking items, snacks and toiletries, in addition to the fresh food WFCM buys and receives from grocery stores. 
In addition, two Scout units sponsored by St. Timothy Catholic Church in Chantilly took the food they gathered directly to the St. Vincent de Paul Food Pantry at St. Timothy. Since they collected 6,502 pounds, the total amount of food Sully District Scouts collected overall was 56,918 pounds. "It was another great year for this event," said Adere. "And it's a true testament to the generous giving from the people throughout our communities – especially in Centreville, Chantilly and Clifton."