The South Lakes Seahawks and Madison Warhawks faced off on Friday, Oct. 20 for a battle of unbeatens. South Lakes was averaging 50 points a game and Madison averaging 30. But Friday night would be far lower scoring.
In the 1st quarter Dillon Benyo kicked a 25 yard field goal with 2:15 to play to give South Lakes a 3-0 advantage.
In the 2nd quarter Madison would take the lead 7-3 with 5:29 to play before halftime when Dominic Knicely ran in from 35 yards. 
South Lakes' Isaac Copeland would capitalize with 8:12 to play in the 3rd quarter to give the Seahawks a 9-7 advantage after a missed extra point. 
Later in the 4th, Dillon Benyo would kick his second field goal from about 25 yards out to give South Lakes a 12-7 advantage. But Madison would threaten late and a 4th-down-and-10 pass in the end zone with 1:40 to play fell incomplete. South Lakes would run out the clock to close the game at 12-7.
Madison (7-1) (2-1) will host Oakton on 10-27, and South Lakes (8-0) (3-0) will play at Centreville
Photos by Will Palenscar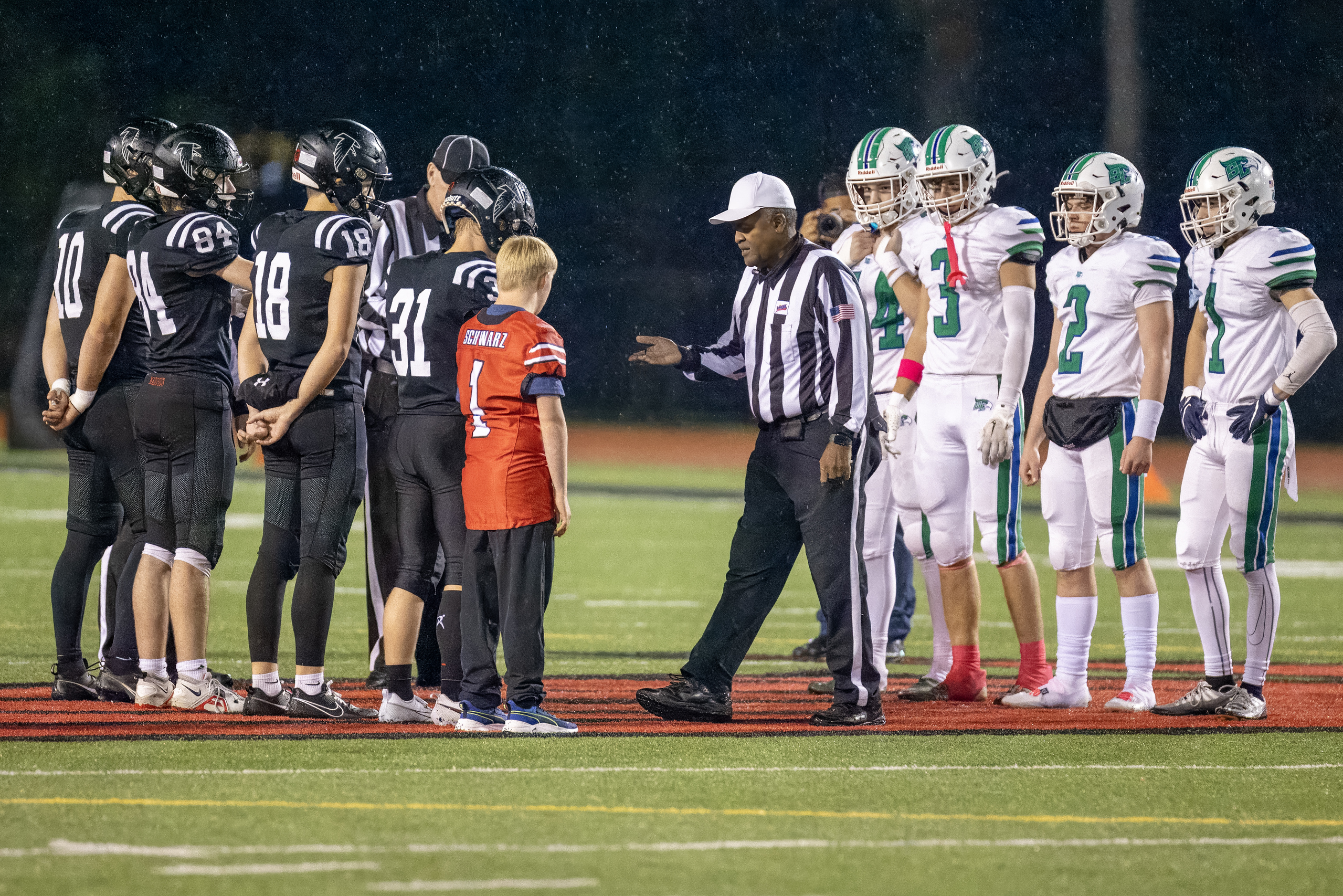 The Madison Warhawks and South Lakes Seahawks gather at midfield for the coin toss.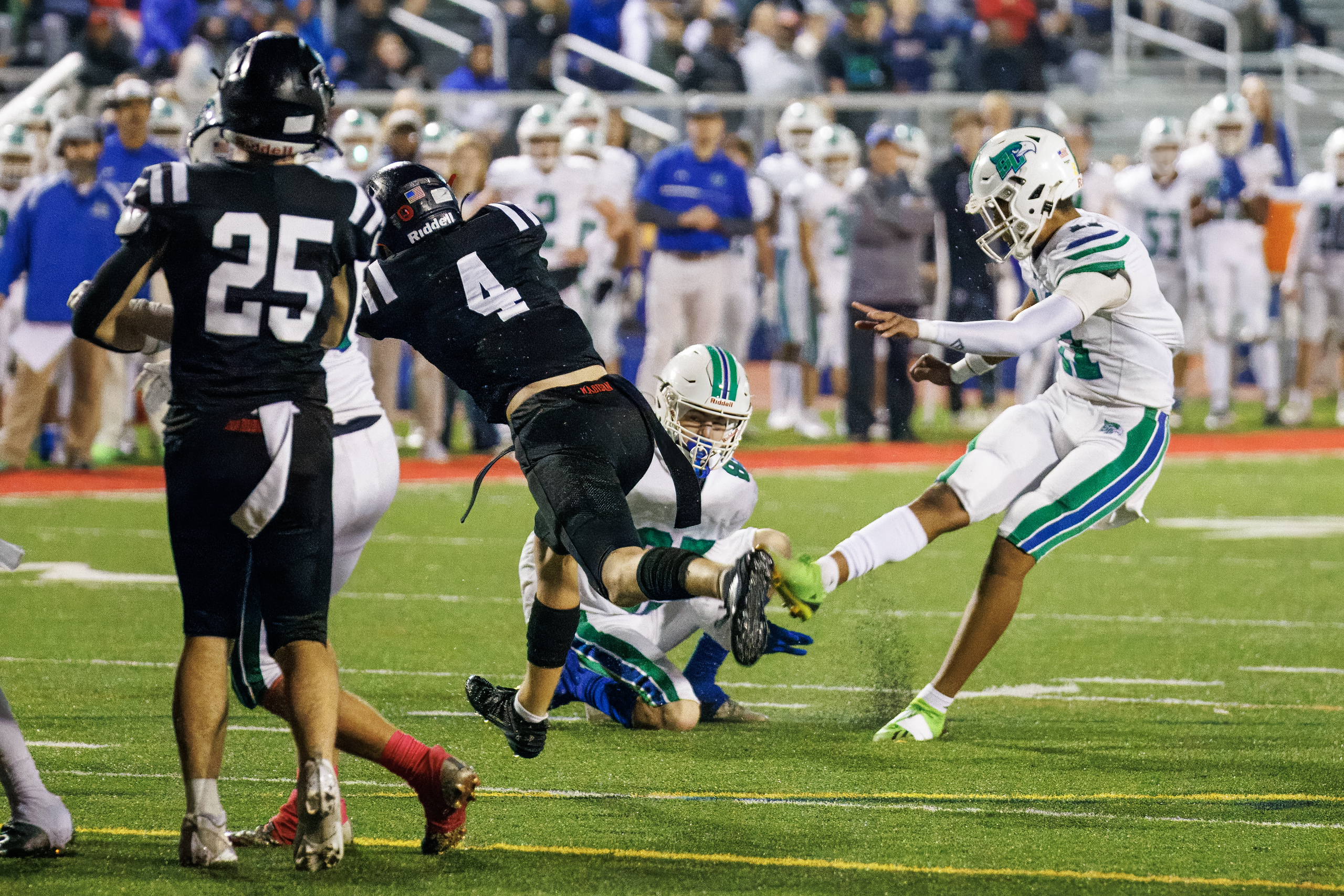 Caleb Smith #4 blocks a field goal attempt by South Lakes kicker Dillon Benyo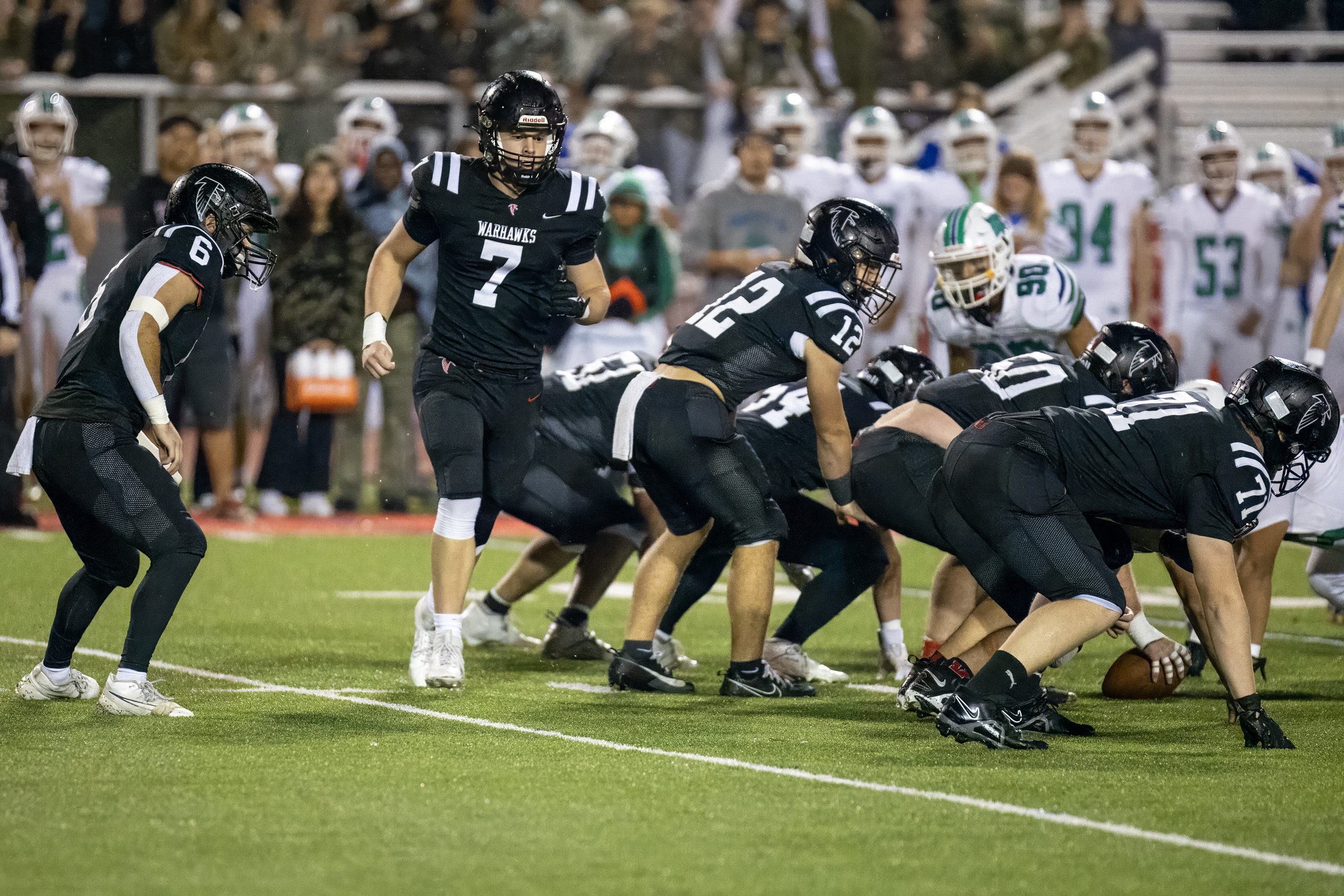 Liden Krush #7 is in motion before the Madison QB takes the snap.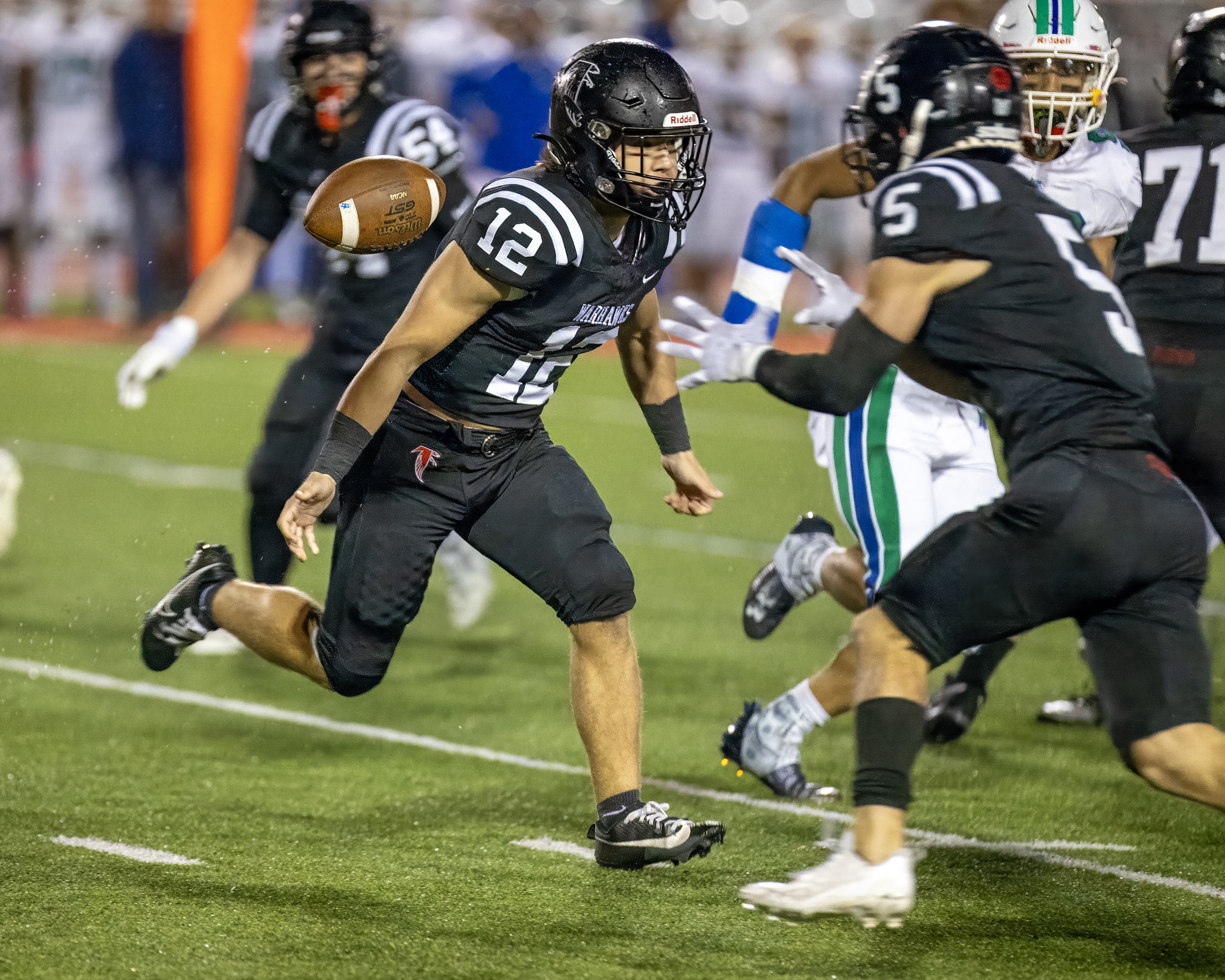 Madison QB Cael Yates #12 pitches the ball to brother Cord Yates #5
Cael Yates looks down the field for a Madison receiver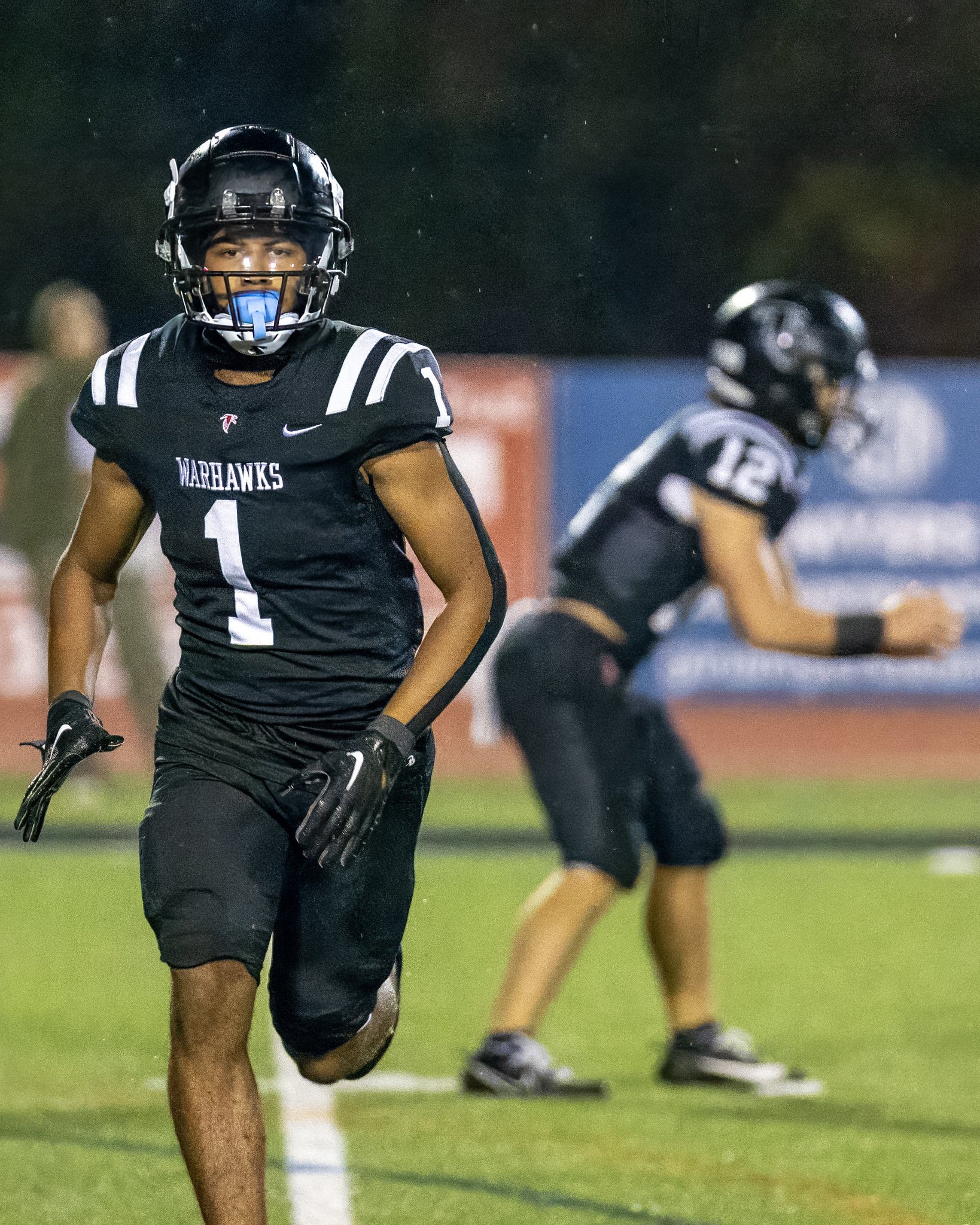 Dominic Knicely #1 is in motion before Madison #12 QB Cael Yates calls for snap.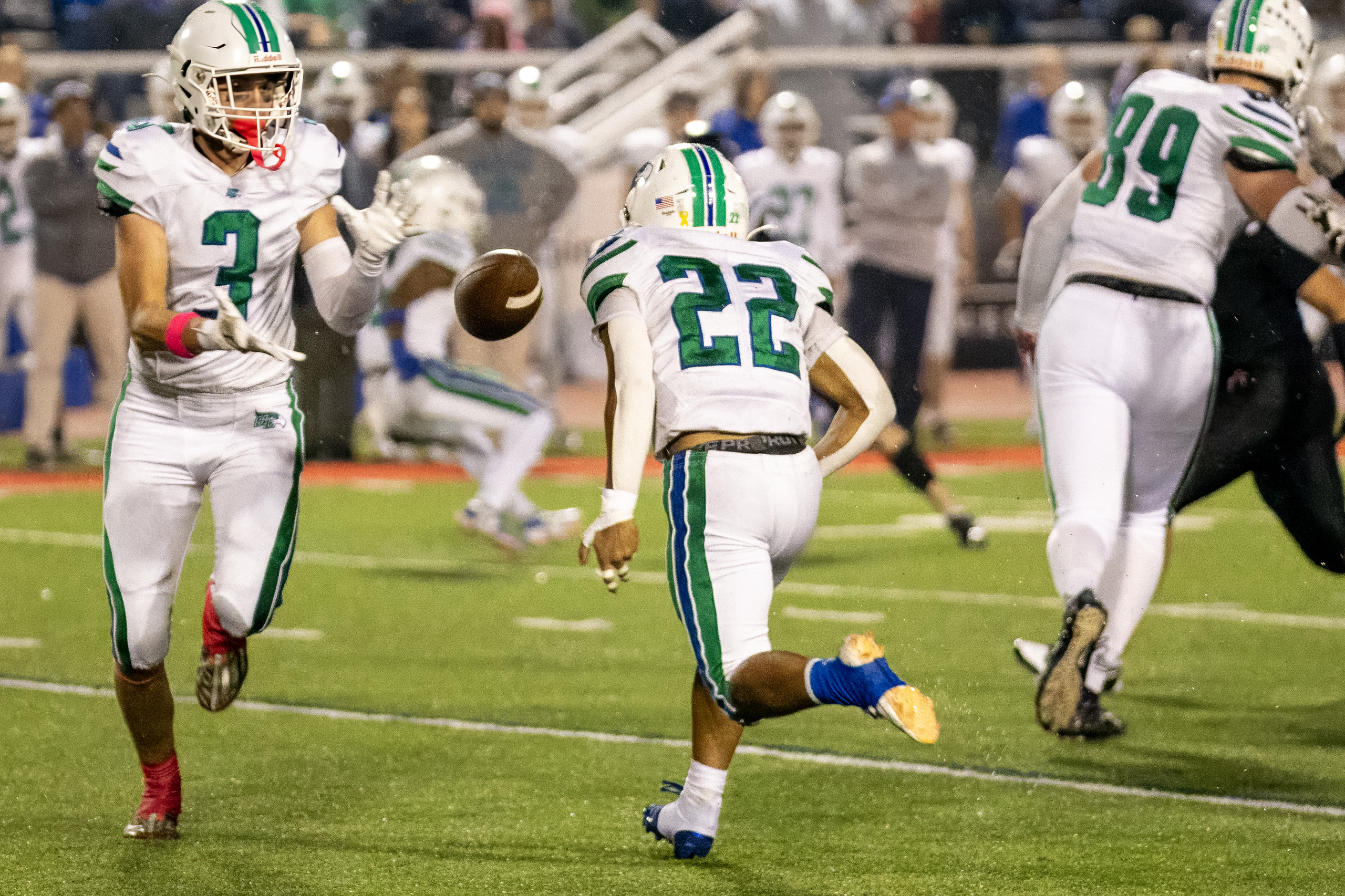 South Lakes wide receiver James Zschunke #3 is ready for reverse from teammate Isaac Copeland #22

Cord Yates #5 extends out and catches a pass with a defender from South Lakes close by
South Lakes QB Nick Harris #2 looks down the field for a Seahawk receiver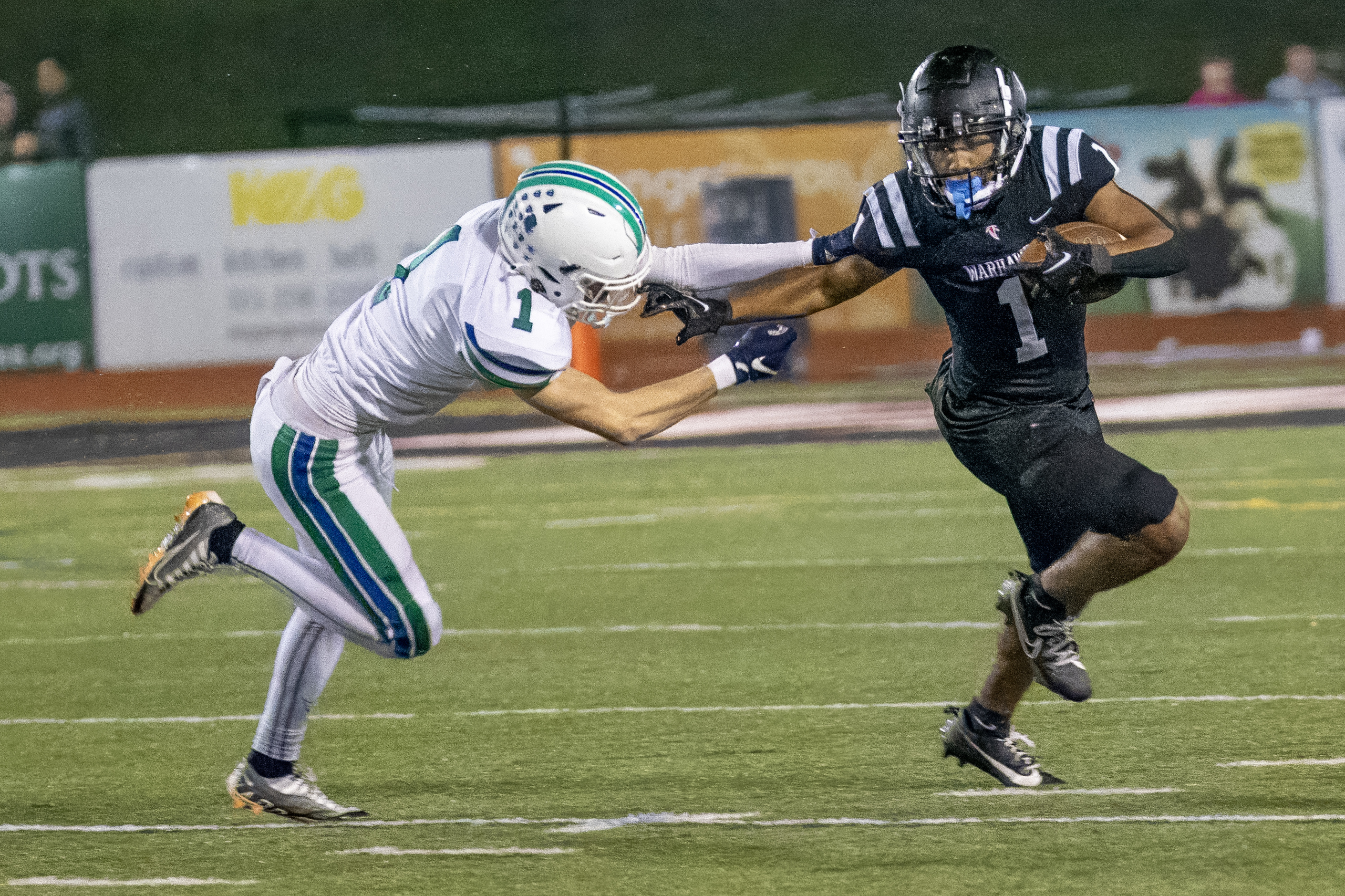 Dominic Knicely #1 runs with ball while trying to fight off South Lakes Jack Schnabel.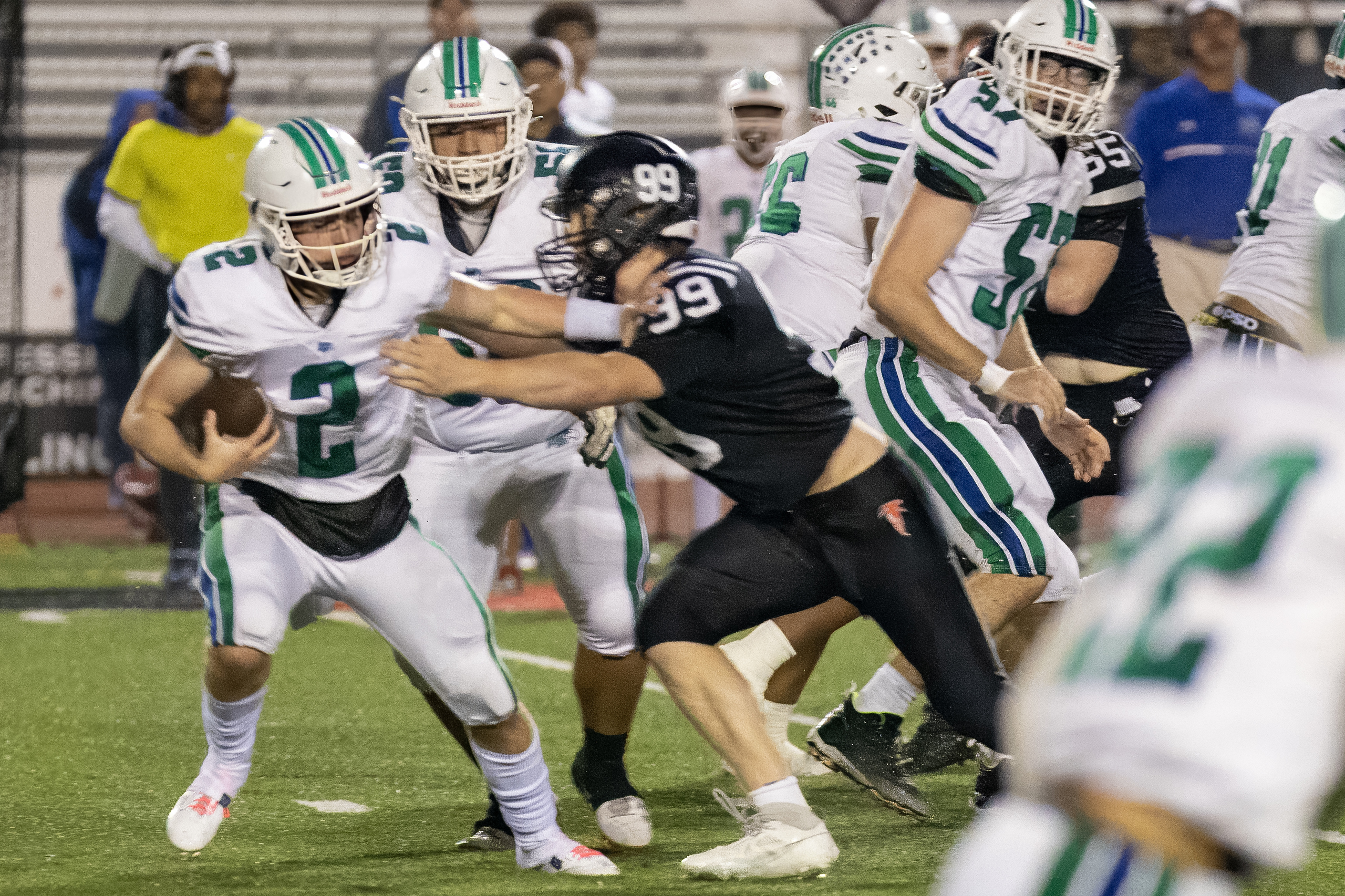 South Lakes QB Nick Harris is pressured by Madison's Caden Green #99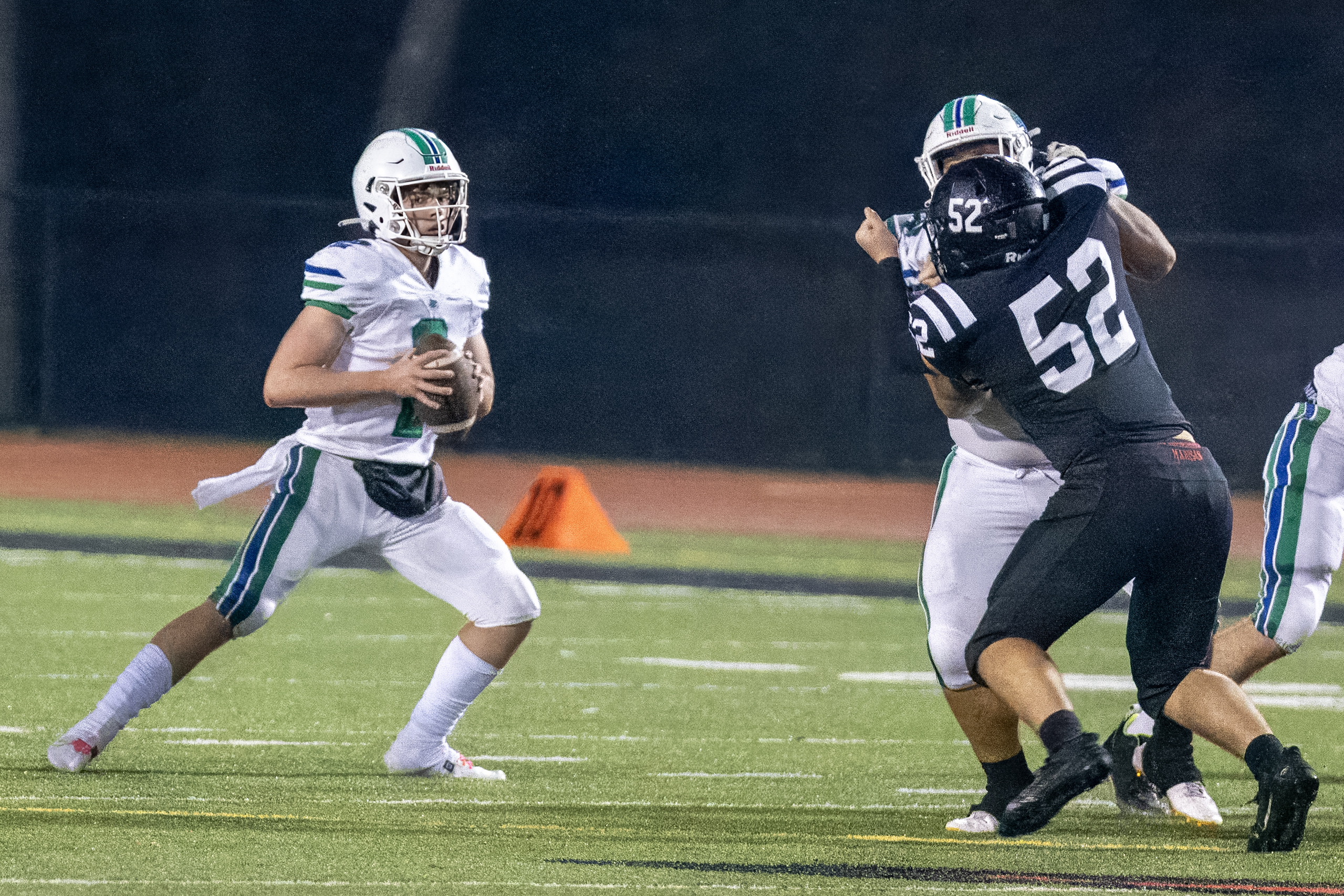 South Lakes QB Nick Harris surveys the field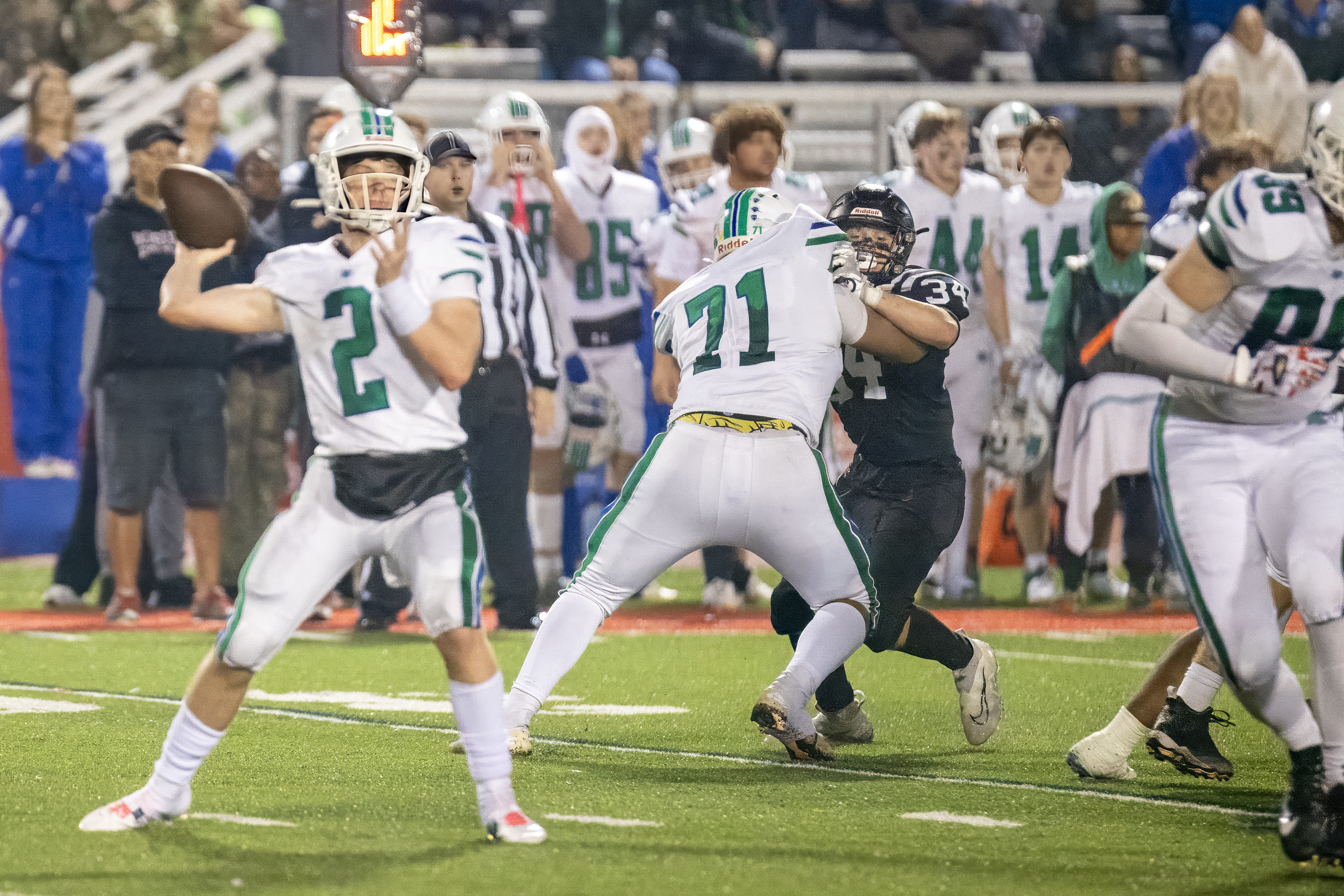 Nick Harris has eyes set on South Lakes receiver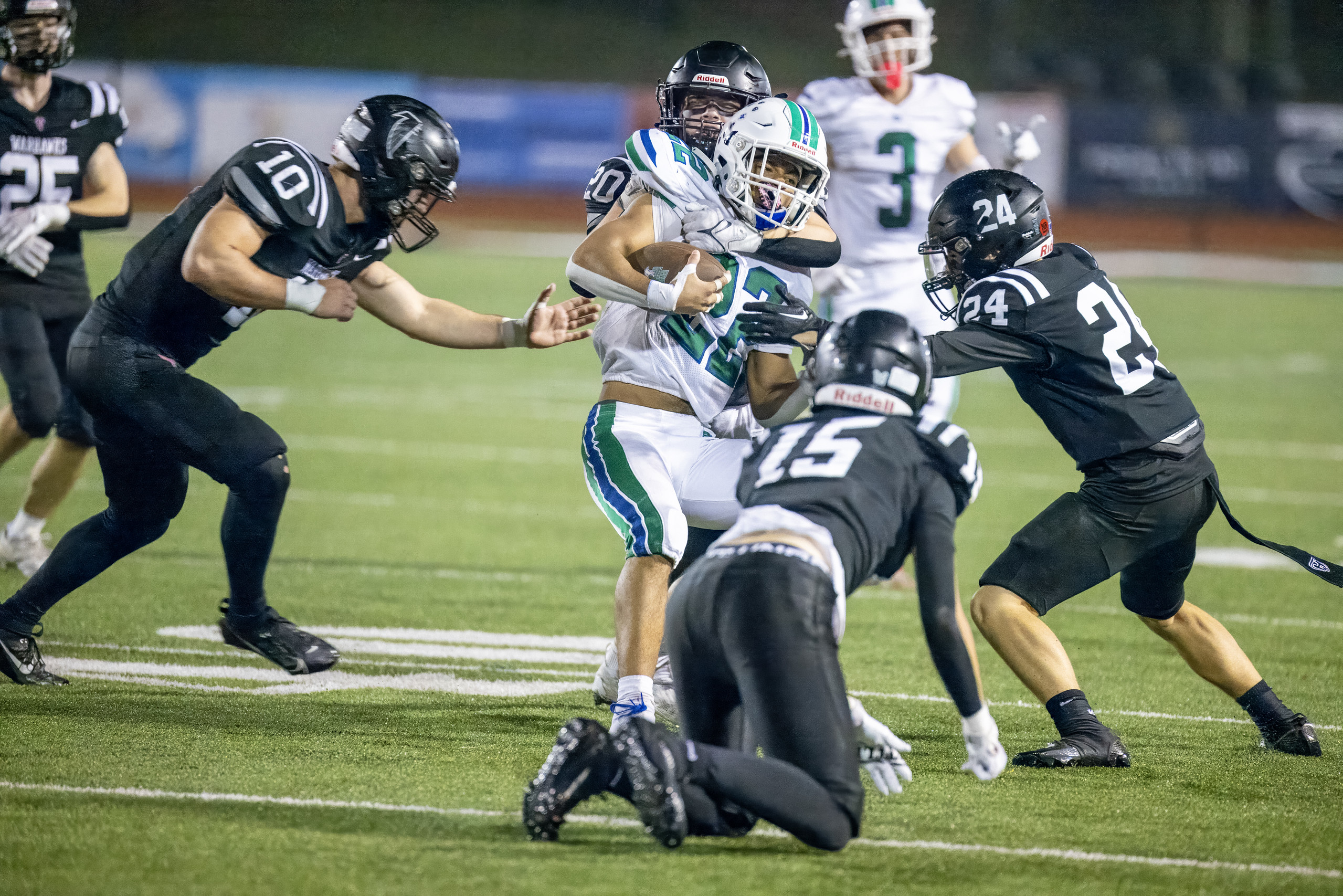 Isaac Copeland is wrapped up by Madison's Luke Slvosa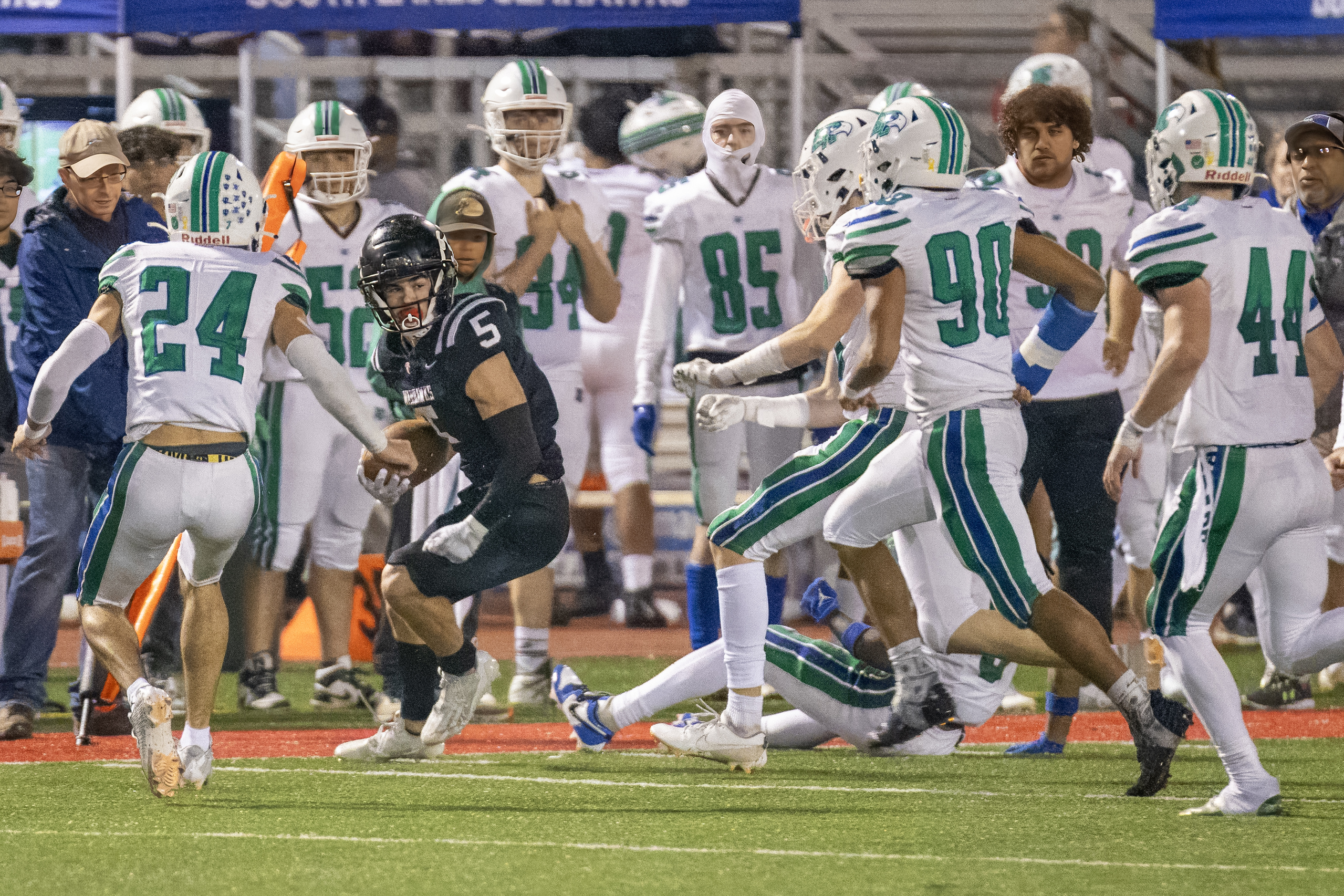 Cord Yates #5 looks to see a sea of Seahawks converging.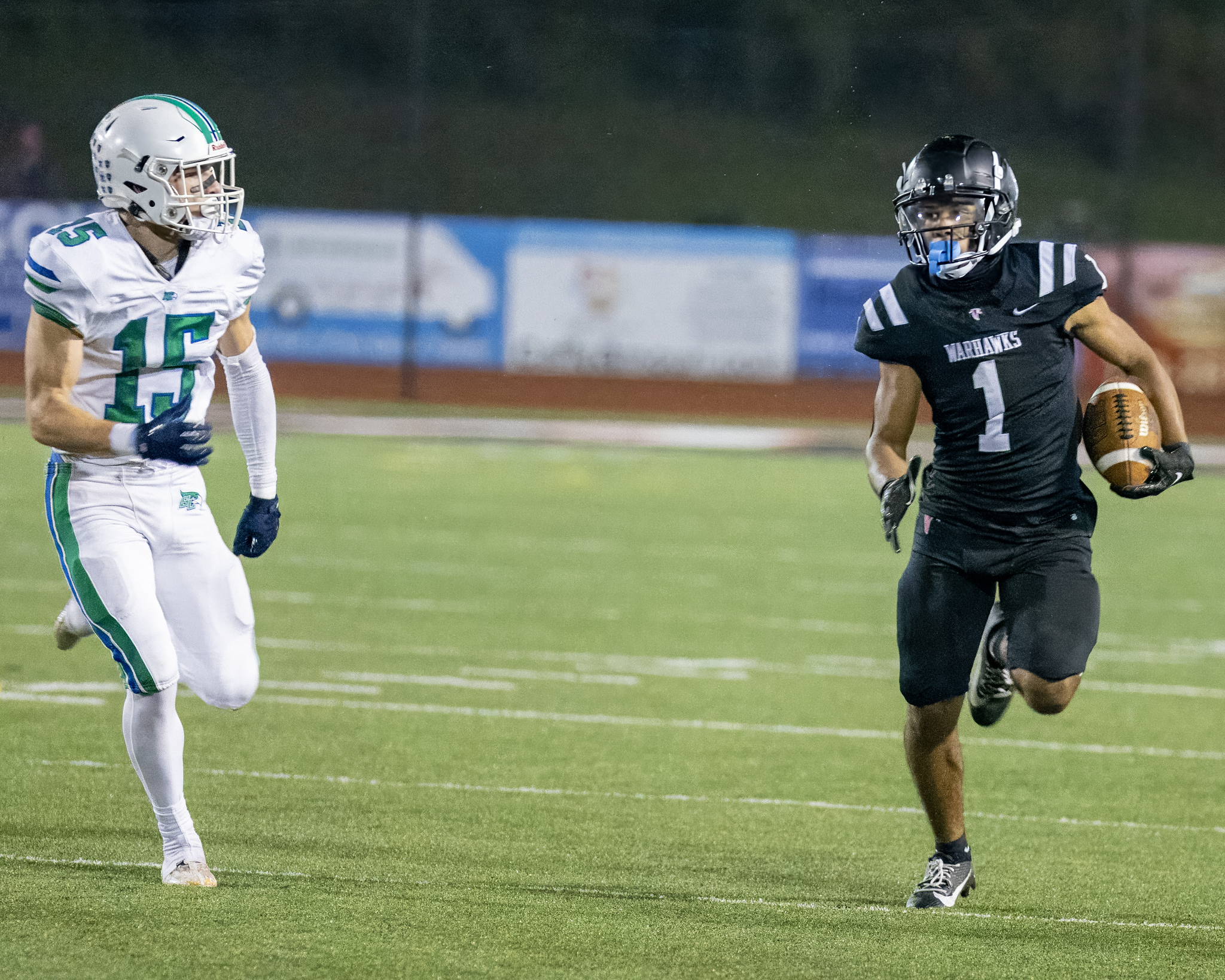 Dominic Knicely sprints down the field for Madison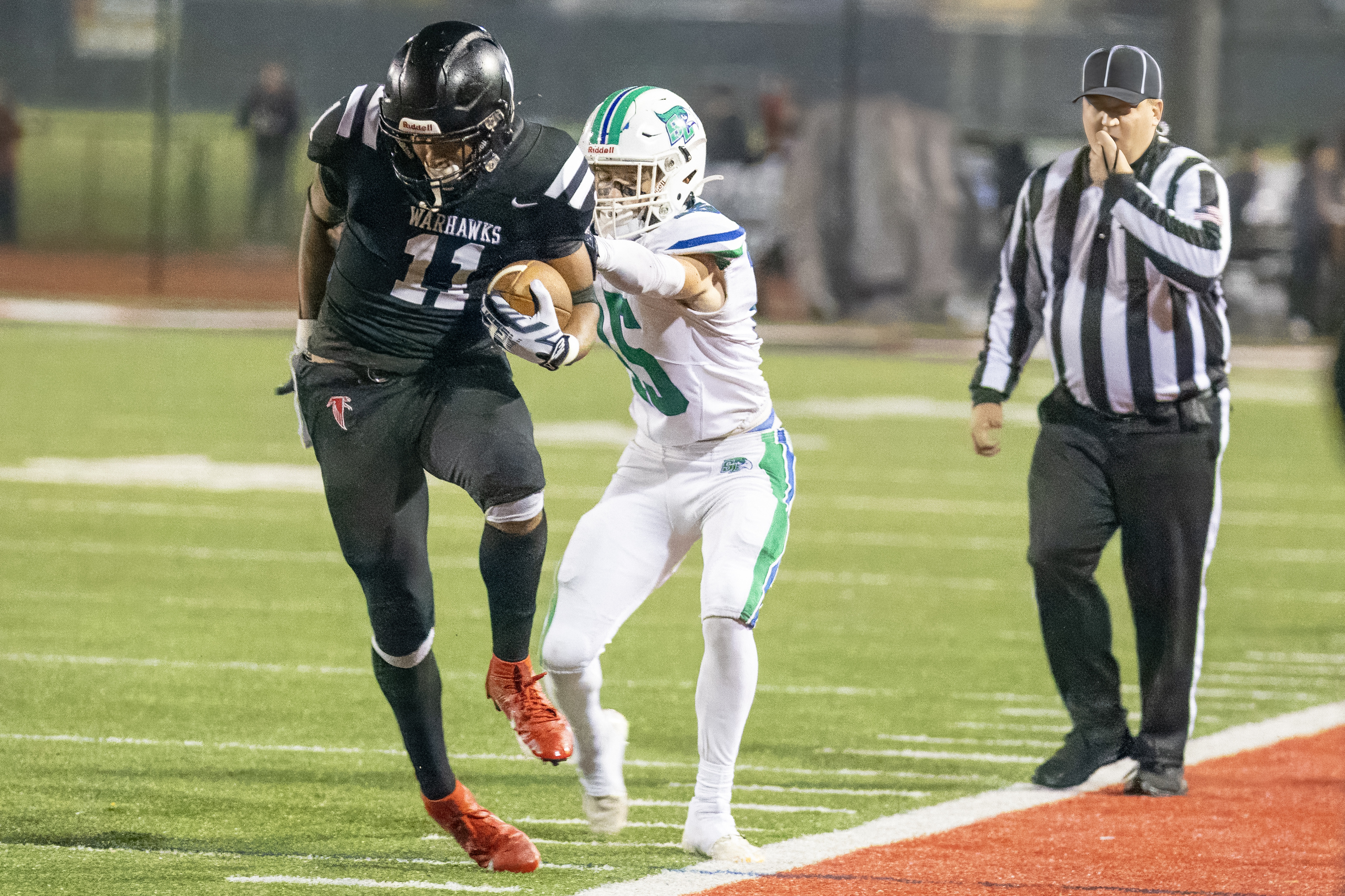 Darren Knicely #11 tries to stay in bounds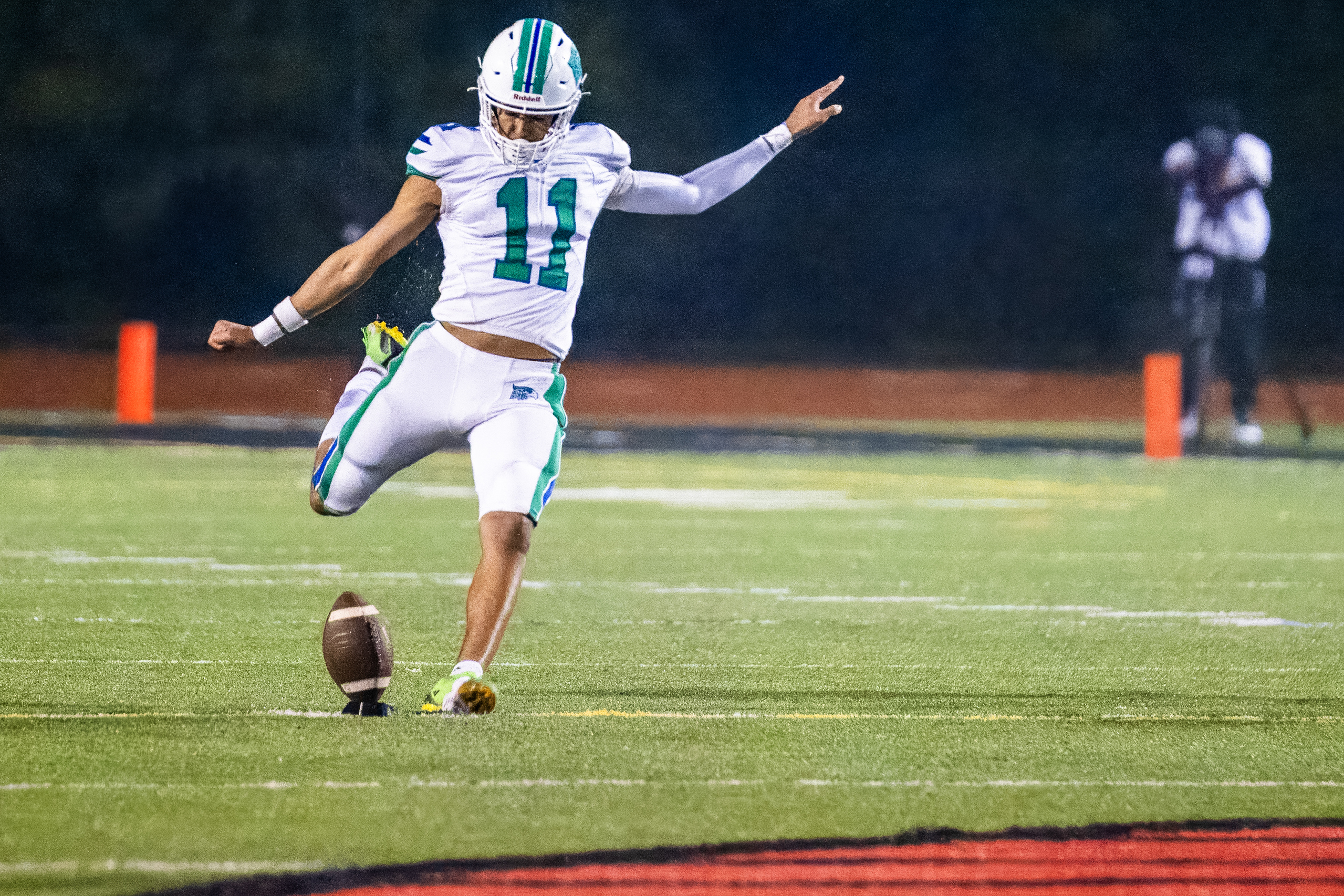 Dillon Benyo kicks off after a South Lakes touchdown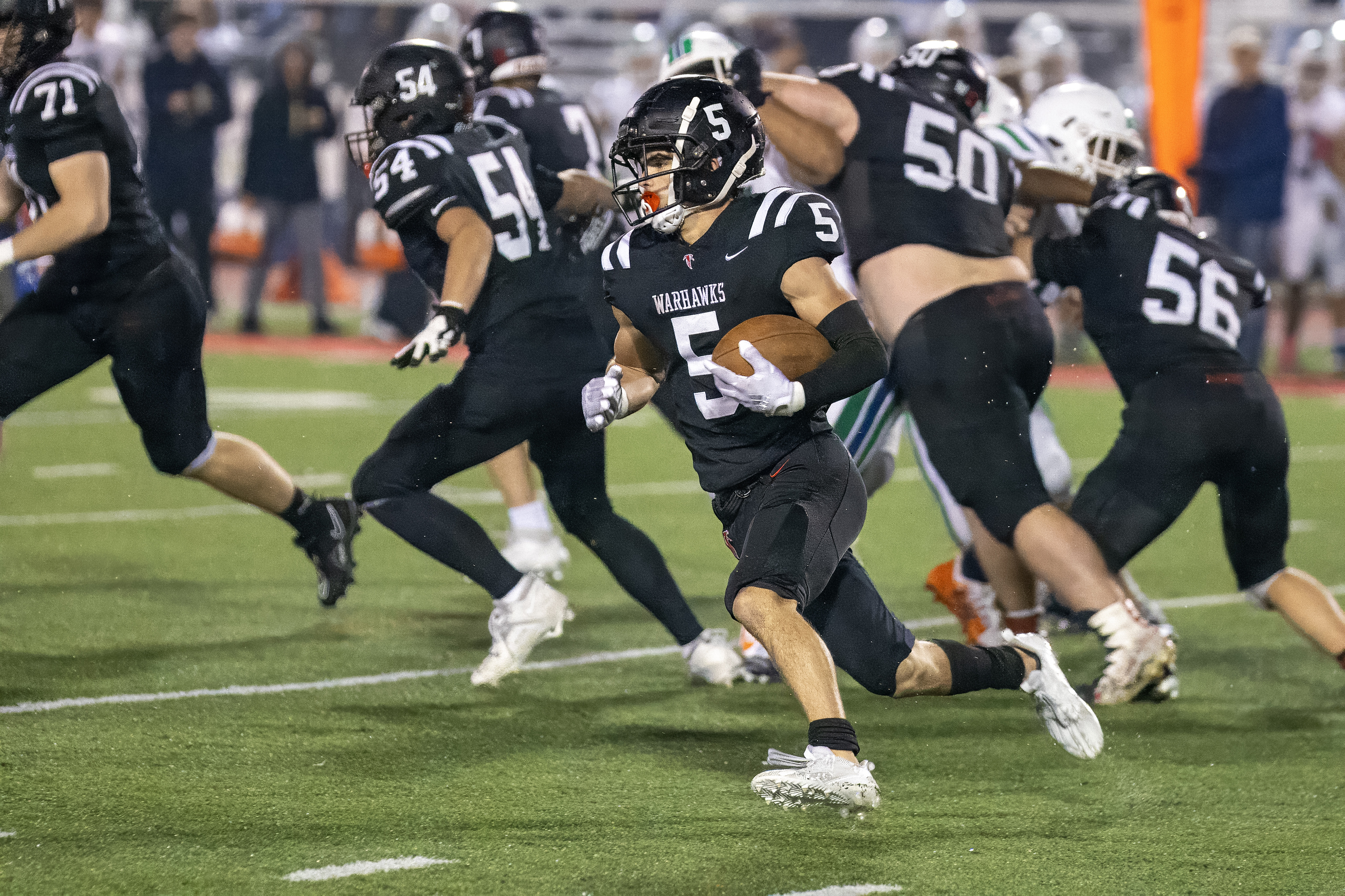 Cord Yates #5 uses help of Warhawks offensive line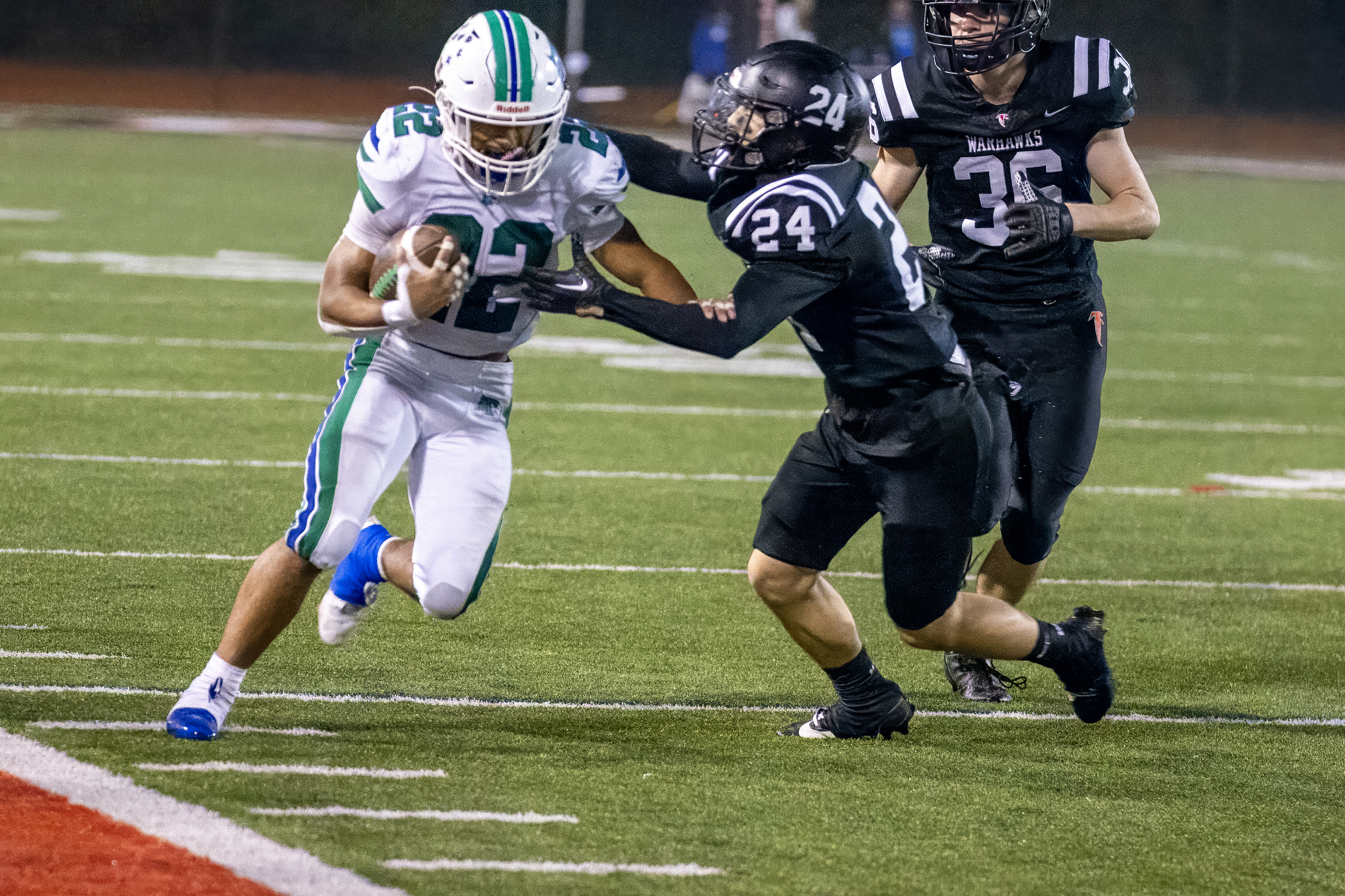 Isaac Copeland #22 runs with the ball while Madison defensive back TJ George attempts to tackle him.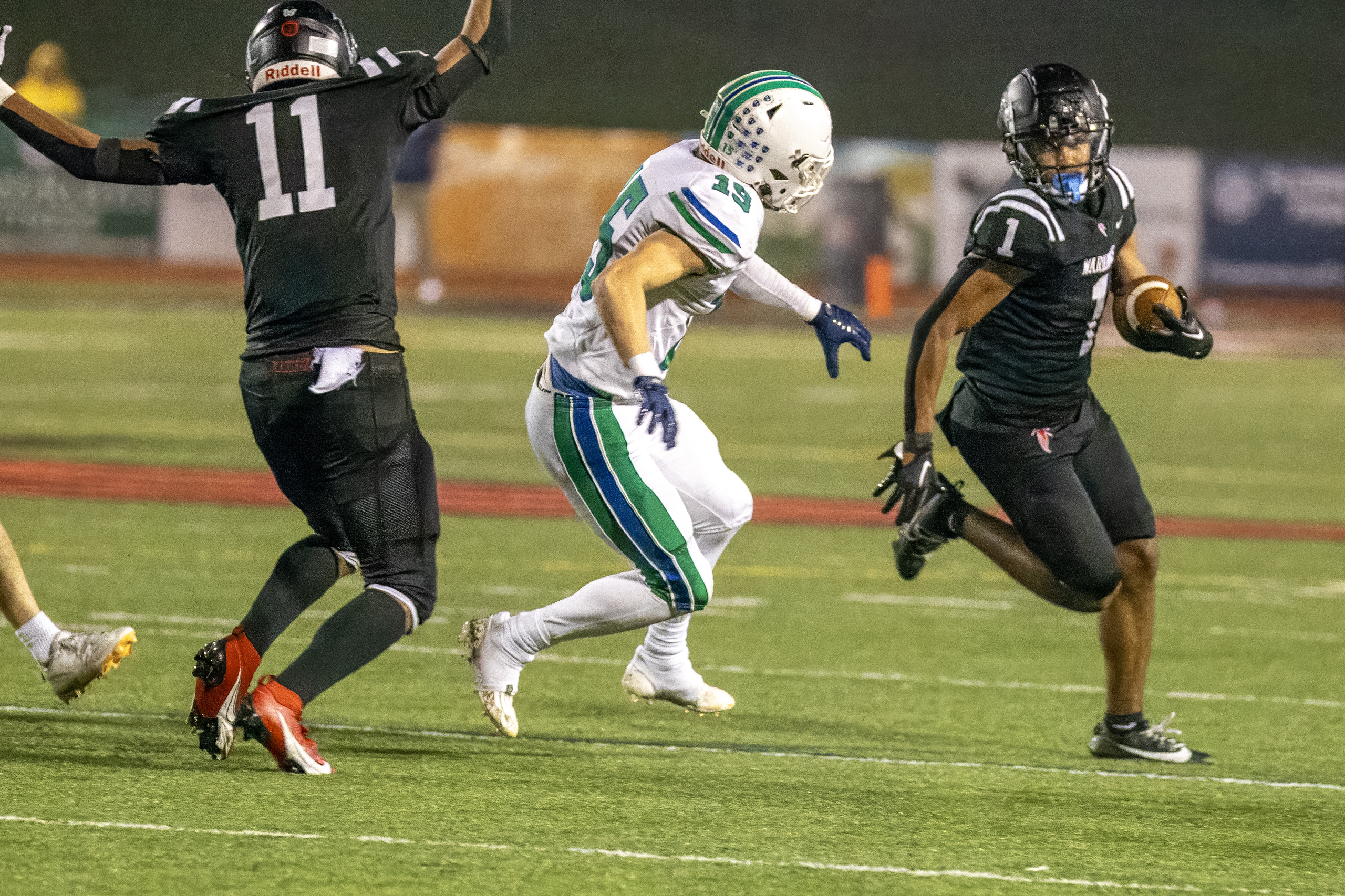 Darren Knicely #11 looks to set block for his brother Dominic #1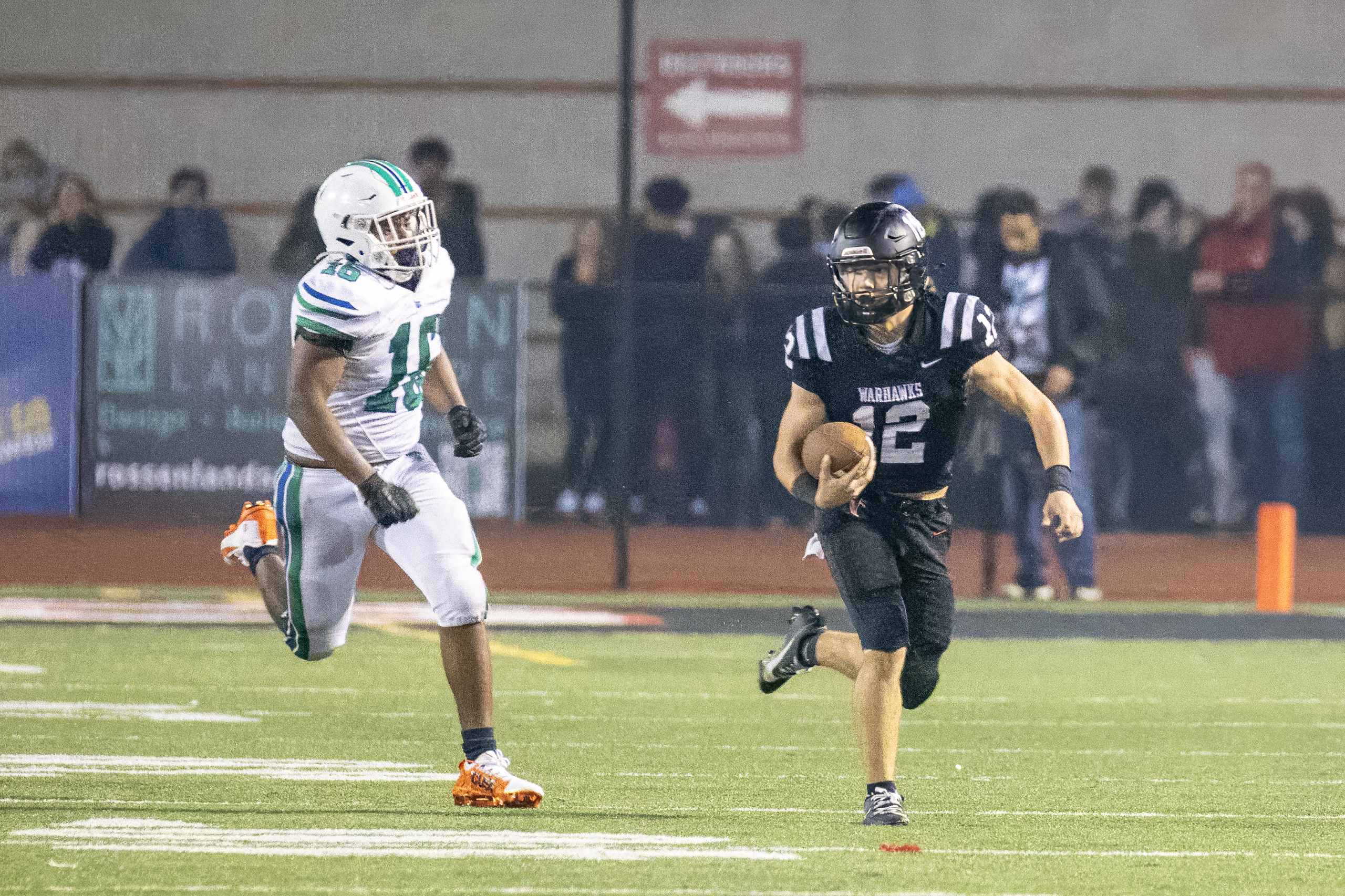 Madison QB Cael Yates has a step on South Lakes #15 Misha Zarechnak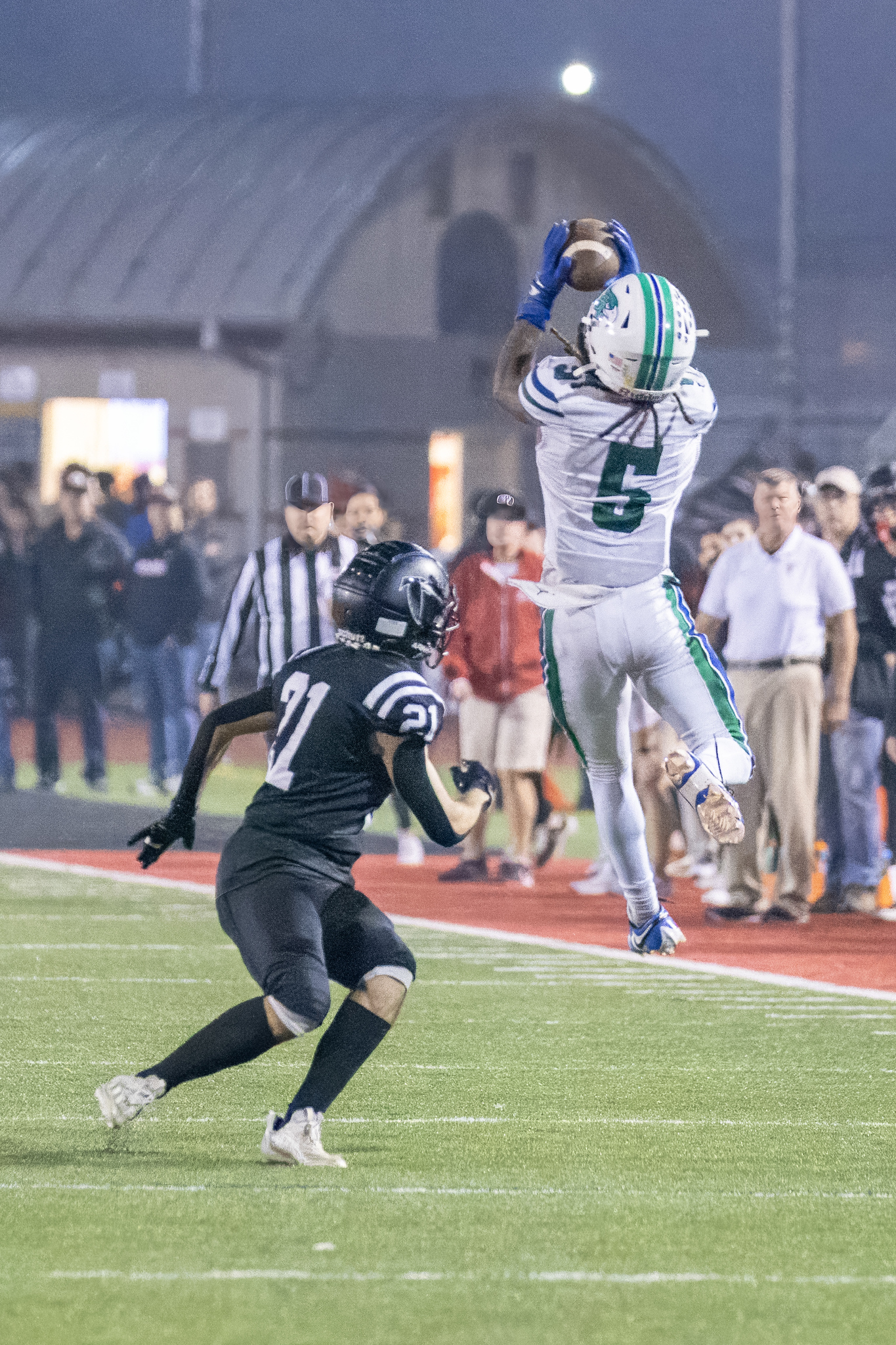 South Lakes WR Brian Kennedy #5 elevates for a Seahawks catch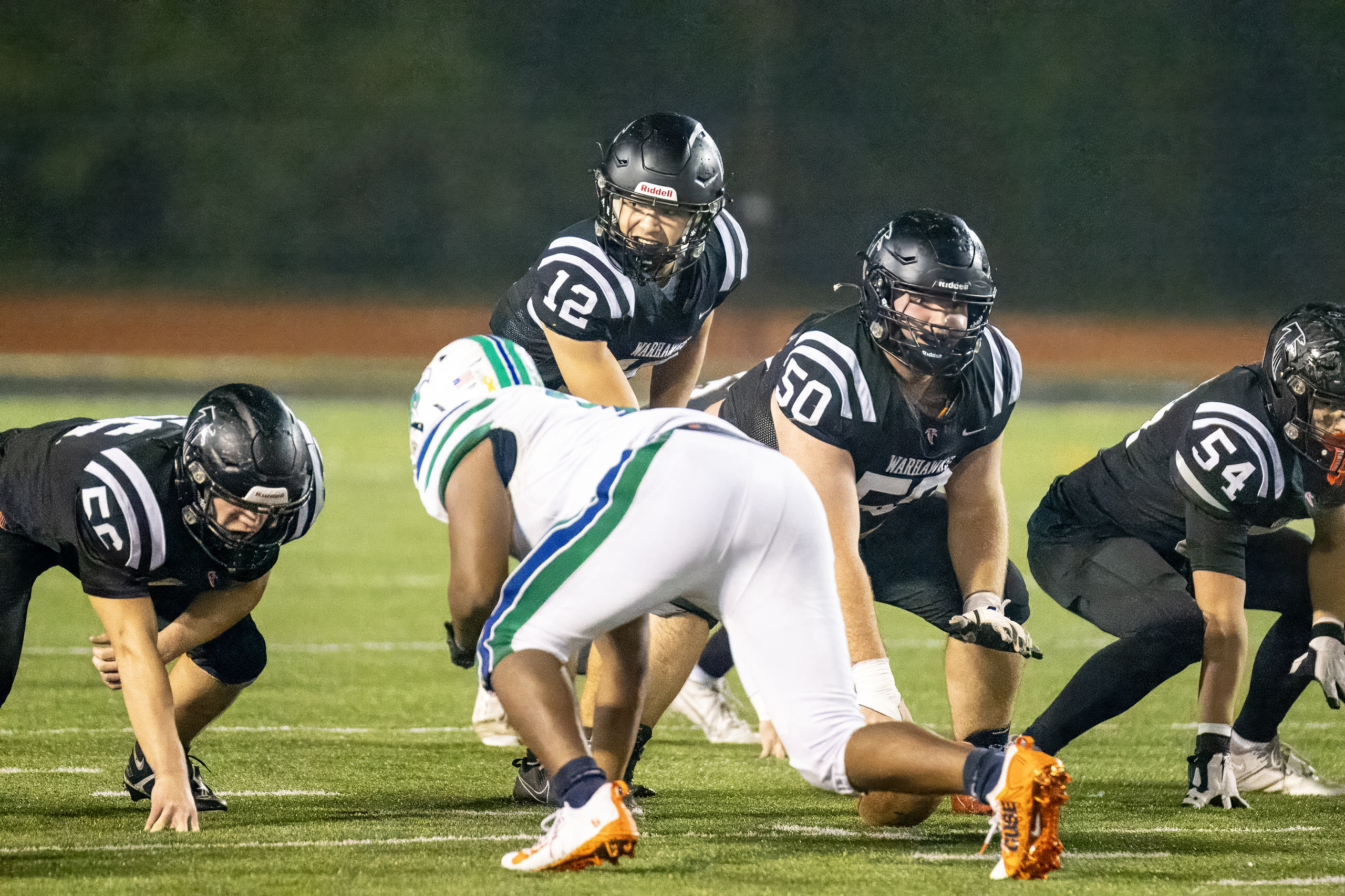 Ari Rosenberg #50 surveys the South Lakes defense prior to snapping ball